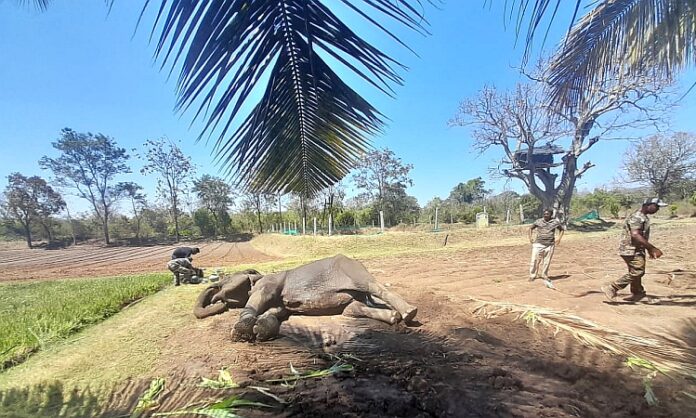 Bengaluru: Prime Minister Narendra Modi praised the Karnataka forest officials' personnel for saving a female elephant that had been electrocuted and remarked that it is admirable that our people are so compassionate. The appreciation was in a response to a tweet posted by Union environment and forest minister.
"The elephant, after being rescued from electrocution, was released in the Reserve and was being 'closely monitored'," tweeted Yadav.
Responding to this, the Prime Minister posted a tweet, saying "Happy to see this. Compliments to the staff at Bandipur Tiger Reserve. Such compassion among our people is commendable."
Also Read: Karnataka's task force faces uphill task to curb man-animal conflict
Following the incident, a farmer has been charged in this connection with electrocution injury to a wild female elephant aged 25 years in the state's Chamarajanagar district on Tuesday because the electrification was illegal. The incident happened in the Bandipur Tiger Reserve's Omkar forest range's Baragi village. The accused farmer is identified as Putranapuraju alias Hannumaya.
According to reports, a female elephant was immediately treated by the forest officials and a set of doctors team and has now been released back into the Reserve and is being closely monitored.
Also Read: Price of shrinking forest: 322 men, 245 jambos die in Odisha in 3yrs
In a statement released by the state forest department, it is claimed that "Electric wires of 2 feet high were illegally installed in order to provide protection on land owned by Putranapuraju, a resident of Nagapatna village. While crossing the terrain, the elephant ran into this electric line, suffering severe injuries. The animal was effectively treated by Dr Wasim Mirza's team of veterinarians for four hours as soon as the representatives from the forest department arrived. The elephant was lifted and restrained using a JCB once it had recovered."
It has been claimed that a case under Electricity Act has been registered at Guadalupe police station and police officials are in search of the accused farmer Putranapuraju.
Happy to see this.

Compliments to the staff at Bandipur Tiger Reserve. Such compassion among our people is commendable. https://t.co/rcQIZdETNk

— Narendra Modi (@narendramodi) February 18, 2023