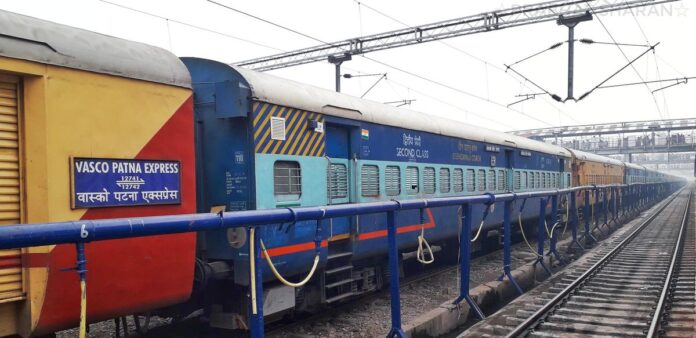 Patna: Passengers of Vasco-Patna Superfast express are having difficult times arranging freshly cooked food, hot tea and coffee and certified packaged drinking water during the travel in the absence of an attached pantry car.
Vasco-Patna express is one of the long-distance train, which originates from Patna of the East Central Railway (ECR) and reaches Goa's Vasco Da Gama station of South Western Railway zone after covering a distance of 2,418 km and travelling through five states like Bihar, Uttar Pradesh, Madhya Pradesh, Maharashtra and Goa. It takes around 30 hours to reach the destination.
Passengers allege that they are made to pay exorbitant cost for getting the food items, drinking water and other eatables served on the berth from unauthorised vendors. "We need to get down on platforms to buy authorised water bottles or pay up to ₹30 for one litre water against its normal cost of ₹15 to the vendors" said Anish Joseph, who was travelling in a third AC compartment on Sunday.
Passengers complained that as the train has short stoppages, it become difficult to get down on platforms and buy the desired brand of eatables from the authorised vends. "Vendors authorised by the railways generally roam around in compartments with eatables and tea when the train had an attached pantry car," said Ajay Kumar of Rukanpura, who was also travelling to Goa.
In fact, Patna-Vasco express is not the single train originating from Patna, which does not have the attached pantry car. Trains like Azimabad Express, which runs between Patna and Ahmedabad, Danapur-Howrah, Patna-Indore and Bhagalpur Garib Rath also run without pantry cars.
People have become cautious in taking food while travelling and hence avoid taking eatables from suspicious vendors. "There is online facility to order food during the travel. But I generally avoid getting the food served online, lest it might be not fresh and we would have little option to return," said Asha Devi of Indore.
Regional manager of IRCTC (which runs e-catering service on running trains) Rajesh Kumar said that they would start the pantry car service once they are told to do so by the railways. "We will engage reputed firms to run pantry car facilities in trains as soon as the railways tells us," he said.
Chief Public Relations Officer (CPRO), ECR, Birendra Kumar said that the IRCTC has been providing freshly cooked items during the travel. "Their service and prompt and reliable. The orders can been booked through the numbers dished out on the tickets or through the websites of IRCTC," said the CPRO, adding that he would enquire as why the pantry car facilities were discontinued in those trains.