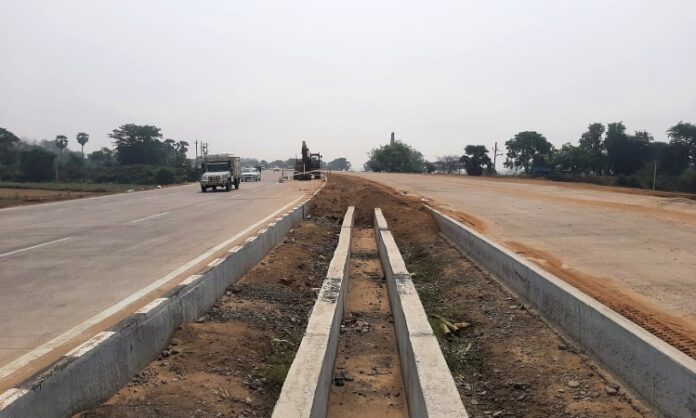 Patna: The long-awaited four-lane between Koilwar and Buxar—an important roadway that connects Bihar's capital city with Varanasi in Uttar Pradesh—is up for its inauguration. Once the formality is done, travel distance between Patna and Buxar could by cut down to three hours, which otherwise was at least a five-hour affair.
Officials said that Union minister for road transport and highways Nitin Gadkari will formally inaugurate the road for traffic on Monday. The National Highways Authority of India (NHAI), which is executing the 92-km long project, is readying it for the opening.
Koilwar-Buxar four-lane road project is part of an integrated 125km Patna-Buxar road project. While the 92-km stretch, comprising 1.50km 6-lane bridge on the river Son, between Koilwar and Buxar will be opened for seamless traffic, work is still going on on the rest of Koilwar-Patna link.
The NHAI has completed the Koilwar-Buxar project at the cost of around ₹1507-crore. The new Koilwar bridge was inaugurated by Gadkari for traffic in December last year.
Also Read: Gadkari opens 6-lane Koilwar bridge in Bihar, as CM Nitish Kumar skips event
Though the 125-km project, comprising NH-30 and NH-84, was sanctioned by the Centre in August 2015, work on it could began in August 2018.
Going to Delhi from Patna via Uttar Pradesh would become easy once the 17km stretch of road, from Buxar to Purwanchal express via Haidariya is complete. Another bridge on the river Ganga at Buxar, parallel to the existing one, is under construction. It is part of the Buxar-Haidariya road.
Also Read: NHAI to start work on Danapur-Bihta elevated road early next year
Officials said that work on Koilwar-Patna stretch of road would begin soon after the Central government released the special financial assistance last week. "We will start land acquisition for building the long-delayed Danapur-Bihta elevated road, which is major component of the Koilwar-Patna road, as the state government received the required sum from the Centre," said an official of the road construction department.