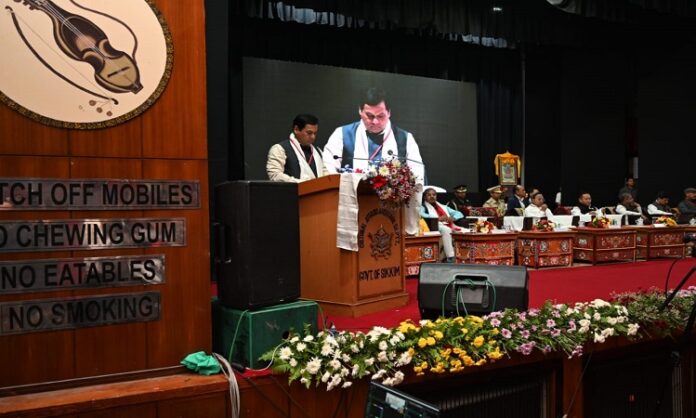 Gangtok: Union Minister for Ayush and Ports, Shipping & Waterways Sarbananda Sonowal on Saturday announced that an International Yoga & Naturopathy College will be set up in Sikkim to boost medical tourism in the Northeast India.
The Minister was speaking at a national workshop on Sowa Rigpa—the traditional & ancient medicinal practice of Himalyanan people in Sikkim—at National Institute of Sowa Rigpa (NISR) said that opening of the college was among a string initiatives taken by the Government to develop and popularise traditional medicinal practice including Sowa Rigpa, Ayurveda and Naturopathy in the state of Sikkim.
He said that a 30 bedded Sowa Rigpa Hospital would be set up in Sikkim, in addition to yoga and fitness centres at each and every Gram Panchayats in the state. "The Government has also proposed to  set up an Ayurveda Medical College under Satellite Institute programme in Sikkim," said the Union Ayush Minister, adding that the Ministry was also exploring the possibility to establish a Research Council for Sowa Rigpa.
The National Workshop on Sowa Rigpa was also attended by the Governor of Sikkim Ganga Prasad as its Chief Guest; Chief Minister of Sikkim Prem Singh Tamang, MoS for Ayush and WCD Munjpara Mahendrabhai Kalubhai as guests. State's Minister of Health & Family Welfare Department Mani Kumar Sharma was also present.
The two-day workshop was organised by NISR under the Ministry of Ayush in collaboration with Namgyal Institute of Tibetology (NIT) at Gangtok in Sikkim.  The workshop was attended by practitioners, academicians, students and other stakeholders of Sowa Rigpa medicinal practice of Himalyanan people.
Sonowal also lauded the beautiful landscape of Sikkim and said that the state has much to offer to heal human health & soul and we have much to gain from the rich heritage of Sowa Rigpa. He said that all the traditional Indian medicinal practices can offer tremendously along with the modern medicinal practices to enrich human lives & improve quality of lives of people.
Sikkim Chief Minister Prem Singh Tamang said, "The practitioner of traditional medicine have substantial knowledge of herbs and their effect on healing organically. Sowa Rigpa is one of the oldest and well documented medicinal traditions of the world. The people of the Himalayan region have been using this therapy since time immemorial and its prevalence in treating & healing is still strong among this region as well as in Sikkim."
ON THE PLATTER
International Yoga & Naturopathy College in State

A thirty bedded Sowa Rigpa Hospital in Sikkim

Yoga & Wellness Centres at every Gram Panchayat

Ayurveda Medical College under Satellite Programme