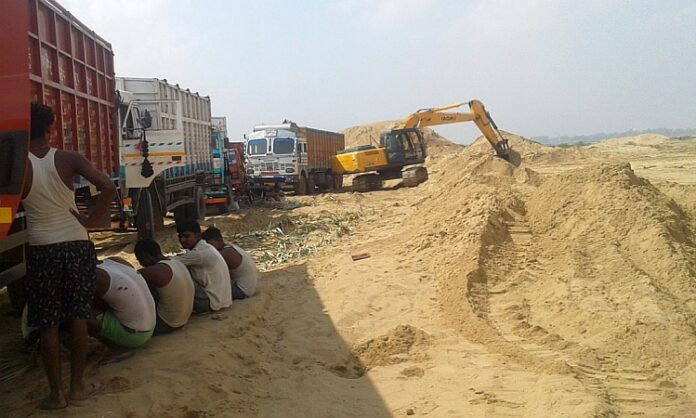 Patna: In a major relief to the construction sector, the Supreme Court has allowed the state government to extend the lease for mining of sand until March 31. The sand mining on ghats across the state was to come to the halt after December 25, as per the previous order of the apex court.
The Supreme Court granted the relief to carry on sand mining by extending the existing lease agreements, which had lapsed months ago, after the state government filed a review petition and sought extra time to settle the ghats and complete the fresh auctioning process. The district administrations have already launched the process of auctioning ghats of various river of sand mining for the next five years.
The cost of sand for construction has started going up for the past one week in view of the likely suspension of sand mining. Many construction companies and government agencies have begun stocking sand as the supply of the vital construction material was to be discontinue until the fresh settlement of ghats for mining.
Last month, the state's mining and geology department had alerted all the works departments to stock sufficient quantity of sand to continue work on the ongoing projects until the auctioning of the ghats for mining.
Also Read: Bihar's works depts told to keep stock of sand for ongoing projects
The Supreme Court had directed the state government to continue the auctioning process for sand mining at the district level and allowed it to get the environmental clearance for the same from the state environmental impacts assessment authority (AEIAA) so that the auctioning of ghats is settled and mining could start at the earliest.
One Dinesh Kumar Rai, a native of Mahuabag, who is constructing his house, said that he had purchased a tailor full of sand at the cost of ₹7,500, which was up by ₹500 as compared to early this month. "The supplier had said that the per tailor sand's cost could go up to ₹8,000 next week, if the mining was suspended for the next few weeks," said Rai.
Also Read: Construction starts on 2 more medical college & hospitals in Bihar
With the sand mining to continue, a section of builders said that the rate of sand might go down slightly in coming weeks, which would be a major relief for them.