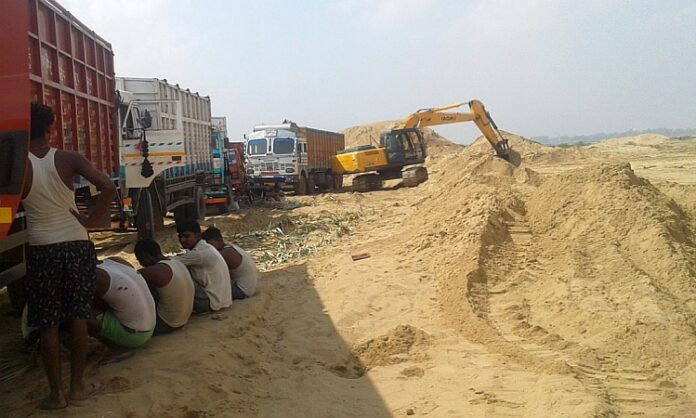 Patna: Fearing the shortage in supply of sand in the market, the mines and geology department of Bihar has alerted various government departments, mainly those engaged in construction, to stock sufficient quantity of the vital construction ingredient for undergoing projects.
The interim order for mining of sand during the current season, which directed by the Patna high court as interim arrangement, is set to expire on December 25. This will lead to blanket ban on the sand mining from December 26, until the settlement of ghats is complete.
Additional chief secretary, mines department, Harjot Kaur Bamhara has written letters to as many as ten departments, including road construction, building construction, rural works department, water resources department, rural development department, urban development, health, education and public health and engineering department to stock required quantity of sand to continue construction work, even if the settlement of ghats for mining is delayed.
The court had allowed mining of sand for three months, October to December, as per interim arrangement as the settlement of ghats for mining could not be done. The National Green Tribunal (NGT) had put ban on sand mining in the state for the past couple of years after it detected serious anomalies in settlement of ghats by the district authorities.
Also Read: Accidents raise high alacrity, follow up actions elude in Jharkhand
The state government has begun the process of auctioning ghats for sand mining this month after getting the go ahead from the NGT. Accordingly, the district authorities have been asked to properly advertise the auctioning and complete the procedure in a proper legal way, so that the process is not subjected to legal scrutiny.
As per the set norms, the district authorities are deemed to get the environmental clearance from the state environmental impact assessment authority (Seiaa) for each ghats before awarding the lease for mining. "The process is cumbersome and time taking, hence the concerned departments have been to be cautious," said a senior officer of the mining department.
Also Read: Bihar govt allows opening of new brick-kilns with conditions
Prices of sand have shot up for the last couple of years after the NGT banned the sand mining. This also led to sudden rise of illegal mining across all important rivers including Son, Falgu, etc. Construction works of many department suffered due to unavailability of sand, while construction of small projects too were hit hard owing to continued escalation of sand prices.