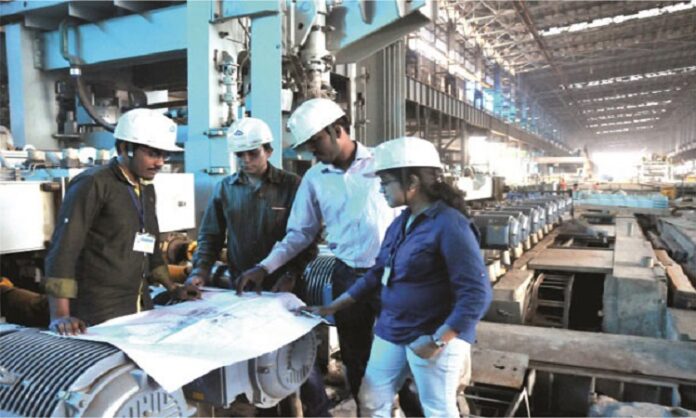 New Delhi: State-owned Steel Authority of India Limited (SAIL) has posted over 50% decline in its consolidated net profit to ₹9.21 crore for the quarter ended March 31, dragged down by lower income.
In a regulatory filing on Thursday, SAIL stated that it clocked a net profit of ₹2,478.82 crore during the January-March quarter of the preceding 2021-22 financial year (F).
The company also reported a sharp fall in its total income to ₹29,416.39 crore, from ₹31,175.25 crore in the year-ago quarter.
Also Read: SAIL posts 16% growth in revenue operation, profit dips to ₹776cr
SAIL, in a separate statement, said its crude steel production during the last quarter of FY23 was at 4.95 million tonnes (MT), higher from 4.60 MT a year ago. However, the sales were down at 4.68 MT, as against 4.71 MT in January-March FY22.
The board of the company has also recommended ₹0.50 per share as final dividend for FY23. "Higher prices of coal and volatility of steel prices have impacted the margins of SAIL. In the current financial year, the company is taking strategic steps for improving the performance," it said.
Also Read: Ramakrishna Forgings to supply forged wheels for Indian railways
SAIL, a public sector undertaking under the ministry of steel, is among the country's top five steel producing companies with a total installed capacity of about 21 MT per annum.
JSW Steel reports 13% growth in consolidated net profit
Steel major JSW Steel on Friday reported a 13% growth in consolidated net profit at ₹3,664 crore for the quarter ended March as against ₹3,234 crore posted in the same period last year.
Revenue from operations during the reporting quarter were flat at ₹46,962 crore, compared with ₹46,895 crore in the corresponding quarter of last year.
Also Read: East Zone conference deliberates on cutting down logistics cost
The board has also recommended a final dividend of ₹3.40 per share for the year ended March 2023. The dividend, if approved by the members at annual general meeting (AGM) will be credited on or before 30 days from the date of the meeting.