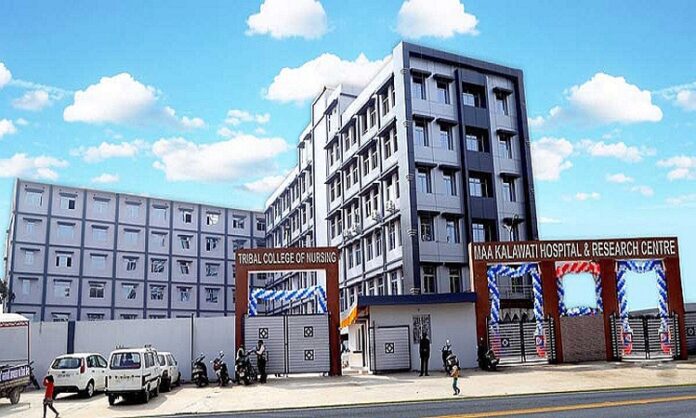 Ranchi: Fate of about 160 students enrolled in the Tribal College of Nursing and Maa Kalawati Nursing College, both located in Namkom, hang in balance. The students are not allowed to fill up the forms for the degree, as the both the institutions did not have mandatory affiliation from the Indian Nursing Council (INC) and the Jharkhand Nursing Registration Council (JNRC).
Students said that they took admissions in the four-year course of nursing in the session 2017-21 and 2018-22 after the institutes claimed to have all the valid documents and authorisation from the concerned bodies. However, the students are now finding at their wit's end, as  they are being denied to fill up forms for the final examinations.
Students, who are now preparing to gherao JNRC, said that they had took admission after completing all formalities and depositing the entire course fee to the respective institutions. "Where did we err? The institutes took admission assuring that they would not face any issue in appearing in the final examination and getting the degrees after clearing it. But suddenly, we are left nowhere," said Kamlesh Kumar, one of the affected students.
"We were not informed about any technical issues in appearing in the final examination. We attended all the classes, passed the annual examinations conducted by the institute as per the norms. But, as the final examination got delayed, institutes' authorities told us that they were sorting out some technical issues for registration," said Keshu Tigga, a student of the Tribal College of Nursing.
Also Read: Derecognise pvt varsities not fulfilling UGC norms: Jharkhand Guv
Officials of the JNRC said that the institutes were at fault for taking the students for a ride by taking admissions in the courses not affiliated by the apex council, INC. "We can't accept forms of students of non-affiliated institutions. The registration is must, which is missing in case of these students," said an officer.
Officials of both the colleges, however, pleaded innocence, claiming that they were assured that the affiliation issues would be resolved in due course of time by the JNRC. "Now they are rejecting our applications at the last moment without allowing us the chance to clarify our position," claimed an officer of Maa Kalawati Nursing College. Principal of the Tribal College of Nursing Sumati, however, feigned her ignorance towards the issues.
Meanwhile, students of both the institutes have decided to launch their agitation against the JNRC and gherao it to press the authorities to let them fill up the examination form.