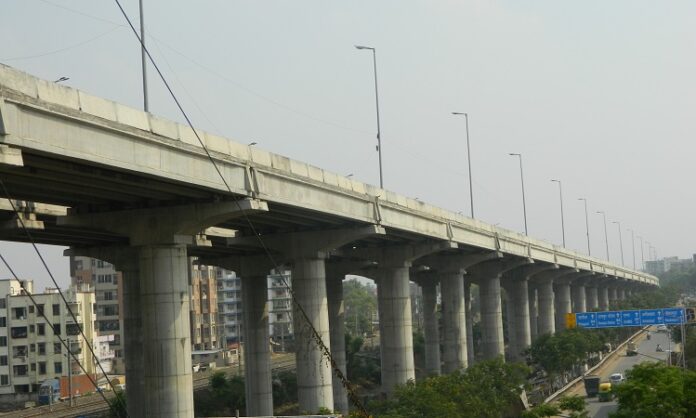 Patna: The long-awaited process of land acquisition to build the 21-km four-lane elevated corridor between Danapur and Bihta has taken off with the district authorities issuing notices to about 150 farmers to give up their land in lieu of compensation.
Officials said that farmers have been asked to submit lineage records, land deeds and bank accounts to claim compensation in Neora, Usrikhurd, Khedalpura, Paithani, Kothiyan and Patsa mauza of Danapur and Bihta areas. About 45 hectare of private land and 12 acre of railway land are to be acquired for building the ₹2,200 crore project.
District magistrate, Patna, Chandrashekhar Singh said that the district administration had already allocated ₹456 crore for acquisition of 45 hectare land with 374 houses and other structure. "The railways would be compensated on the land against land principle by offering a portion of Hardinge Park near Patna Junction," he said.
The National Highways Authority of India (NHAI), which has taken up the Danapur-Bihta corridor as part of 25-km Danapur-Koilwar stretch of road to be executed at cumulative cost of ₹3,737.51 crore, said that construction would start early next year once the district authorities handed over unencumbered portion of land earmarked for the construction. "The tender for Danapur-Bihta elevated road has been floated last month and evaluation of the bid documents is on," said a senior officer of the NHAI.
The was mooted by NHAI on the instruction of the Prime Minister's Office (PMO) in October 2018. Officials said that the elevated corridor would give easy access to those seeking to go to the upcoming civilian airport at Bihta through an under gound tunnel. The elevated corridor will have three ramps to allow vehicles to go on and descend from at Shivala More, Bihta Airport and at junction of Bihta-Sarmera More.
The project once completed would give connectivity to Purvanchal Expressway to connect Buxar with Patna.
Also Read: NHAI invites bids to start construction of Danapur-Bihta elevated road
The district authorities said that the raiyyats would be compensated against their land in the range of ₹3.75 lakh and ₹6 lakh for per decimal land, depending up on their location. "Additional payments will be made to the owers of land for their houses and other structures," said an officer.