Patna: The Bihar State Pollution Control Board (BPCB) will soon commence air quality forecasting up to three days in advance with help from the India Meteorological Department (IMD) to inform the citizens about kind of air around, said BSPCB chairman Ashok Ghosh at the India Clean Air Summit 2022 (ICAS 2022), recently held in Bengaluru.
The four-day ICAS event, organised by the Centre for Study of Science, Technology and Policy (CSTEP), was held on the theme of 'Looking at Air Pollution through the Climate Lens'.
Addressing the gathering, Ghosh said that the BSPCB had tied up with the IMD to make the prediction for air quality on the line of weather forecast. "The BSPCB is planning the installation of at least one air quality monitoring station across every district in Bihar by the end of next year.
"In the upcoming days, we intend to combine data with IMD and plan air quality forecasts for our non-attainment cities," said Ghosh, adding there is a need to share information that does not create panic among the people about air quality. "There should be two sets of information – one from a policy point of view, and the other for the general public. But we must ensure panic among the population does not happen by sharing random air quality figures," he said.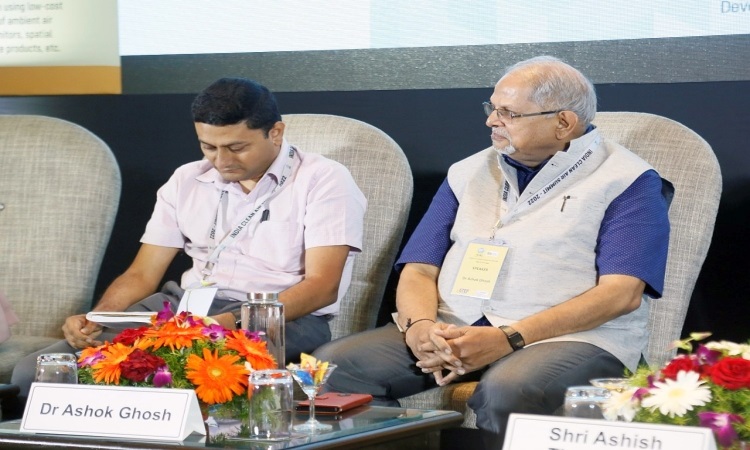 Patna, Gaya, and Muzaffarpur are the three non-attainment cities (whose air did not match the national ambient air quality requirements of 2011 to 2015) in Bihar. The National Clean Air Programme (NCAP), announced by the Ministry of Environment, Forest and Climate Change (MoEFCC) in January 2019, has led to the development of clean air action plans with an aim to reduce PM2.5 pollution by 20–30% by 2024 vis-a-vis 2017.
Also Read: Patna civic body gets anti-smog gun, gears up to fight air-pollution
"We have scaled up the reference grade air quality monitors (continuous ambient air quality monitoring stations) from just three in 2018 to 35 in 2022 across 22 districts. Now, we will increase this across another 16 districts to ensure that every district in Bihar has at least one air quality monitoring station. While we have three non-attainment cities, based on the current air pollution scenario in Bihar with 42% of air pollution coming from outside the State, we may have at least 20 non-attainment cities," said Ghosh.
Air Pollution experts and researchers strongly believe that a state like Bihar with the highest number of non-attainment cities in the country can play a role model for other States by taking proactive steps can play a leadership role in time to come in achieving clean air for its citizen, CSTEP – a policy-research think tank – has assessed during the ICAS 2022.
"Setting up a robust monitoring infrastructure across urban cities in the State will help build better plans for cities, which face air pollution but have yet not been identified as non-attainment cities. Using alternative methods like low cost sensors will only help better strengthen the monitoring infrastructure," said Pratima Singh, head of Centre for Air Pollution Studies (CAPS) at CSTEP.
Meanwhile, with the NCAP closing in on its first deadline, experts believe that the NCAP 2.0 should also ideally focus on pushing the Air Pollution Management programme, which is likely to create between 20,000 to 40,000 jobs in Bihar alone.
"An estimated 1 million green jobs are available within the air quality domain alone across India. These trainings can be started at the IIT's. Developing and building these jobs, available within academia, tech, and health sectors, can significantly help in taking the NCAP forward to its second phase," said SN Tripathi, a senior professor at the Department of Civil Engineering, IIT Kanpur, in his address to the ICAS.