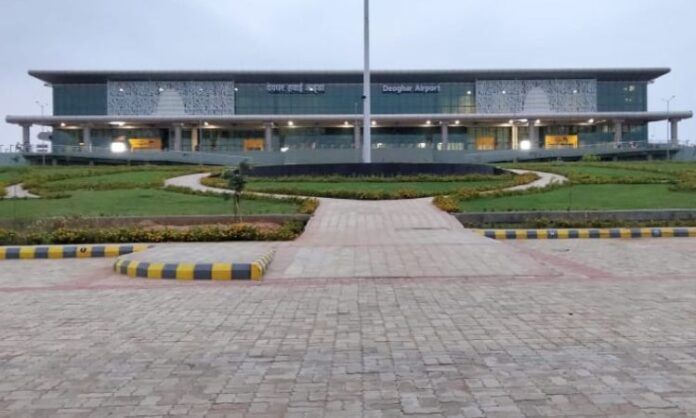 Ranchi: Deoghar airport will be open for commercial operation from July 12. Prime Minister Narendra Modi has agreed to inaugurate the Deoghar airport, which will be bigger in area than Patna and Ranchi airports, on that date.
Secretary of the Union Civil Aviation Ministry Rajiv Bansal and Jharkhand Chief Secretary (CS) Sukhdeo Singh visited the airport on Thursday to take stock of Airport Authority of India's (AAI) preparation for the commercial launch of the facility.
The officials stayed there for more than an hour and inquired about every details of the amenities being made available for the passengers coming in and going out. The CS also directed the Deputy Commissioner (DC) and the Superintendent of Police (SP) of Deoghar to arrange proper security and arrangement for the Prime Minister's visit to the airport.
Also Read: Deoghar airport to pop up on commercial flights' route chart soon
A delegation of Panda Dharmrakshni Sabha and social activists also met the visiting officials and urged them to name the airport after Baba Baidyanath, for which the town is famous globally. Deoghar is one of the most important pilgrimage centres for Hindus, as it has the Baidyanath Temple, housing one of the twelve Shiva Jyothirlingas in India and one of the 51 Shakti Peethas in the country.
The AAI has built the airport on a sprawling 657 acre land with an architecture that conjures up image of Baidhyanath Temple, which is thronged by around 50-55 lakh visitors from across the globe during the month-long Shravani Mela. The Shravani Mela will begin this year from July 14 after two year's break due to Covid pandemic.
AAI Deoghar officials said that online booking for the flights will start on July 2. To begin with 12 flights are scheduled to operate from Patna, Kolkata and Ranchi. Deoghar will be connected to other airports through direct flights if operators evince their interest, said the officer, adding that it has been given an international status owing to flying infrastructure for bigger planes.
Also Read: After 'land' boost, Ranchi's Birsa Munda airport set to vie for int'l tag
The trial operation of A320 aircrafts has been successfully completed later last month. The Deoghar airport has a terminal building on 5130 acre land and is equipped with 2500 metre long runway capable for landing and take-off for bigger planes line A320. There are six check-in counters and capable of handling more than 200 passengers at a time.