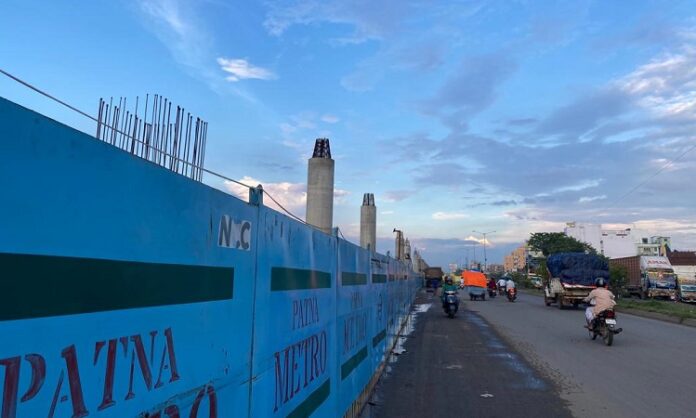 Patna: The metro rail network in Patna is being developed in the green way. The construction company, Delhi Metro Rail Corporation (DMRC), is following the green norms from construction of the station to its operation. All passengers' amenities will also be developed in the eco-friendly manner.
Water will be recycled and used multiple times during station construction. The soil dug to lay the metro rail network will be used as per the state government's requirement. It will be used in parks, public lower grounds and other construction work. The station itself will have energy and water storage.
Passengers travelling from the metro station will be provided with 18 kinds of facilities including medical, canteen, emergency rest area, soundproof system, ample space of sunlight. The station will be provided with electricity as well as lighting from solar panels and purified water through rainwater harvesting systems.
Waste will be used to make compost, packets, toys and entire premises will be kept thoroughly pollution free, said a DMRC official.
Also Read: Bihar CM launches underground tunnel work of Patna metro rail project
As many as 26 metro stations will be constructed in Patna, of which 13 will be made underground. The station is being made completely eco-friendly. The station is working on a plan to remove zero raw material. Under this, the waste generated from the station will be fully utilized.
It will use compost from swallowed waste, then plastic, paper recycled into packets, toys, rope and other useful things. At the same time, both the inside and outside of the station will be decontaminated. Metro will take safe measures to maintain cleanliness as well as air quality inside the station.
Also Read: Infrastructural growth holds key to Bihar's progress
Metros running in all parts of the country including Delhi, Mumbai, Kolkata, Lucknow, Bangalore, Gurugram are ranked. Metro is ranked during the Indian Green Building Council and the Green Mass Rapid Transit System.
In such cases, green buildings are ranked by taking into consideration the environment and the facilities they get to travellers after construction. Patna Metro is trying to get a place in the rankings during construction.
More than 40% of the area of the metro station will be covered with trees. Plant varieties with low water consumption will be planted. At the same time, special attention will be paid to the flowering plant. This will keep the atmosphere fresh with the aroma inside the station.