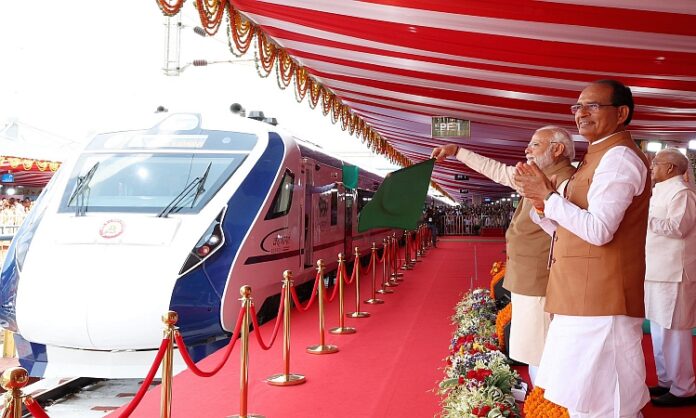 Bhopal: Prime Minister Narendra Modi on Saturday flagged off the Bhopal-New Delhi Vande Bharat express train from Rani Kamlapati railway station in Bhopal, Madhya Pradesh.
The Prime Minister congratulated the people of Madhya Pradesh for getting their first Vande Bharat train and said it will reduce the travel time between Delhi and Bhopal and usher in many facilities and conveniences for the professionals and youth.
Also Read: Vande Bharat express to run between Patna & Ranchi from April 25
The new train introduced between Bhopal and New Delhi railway station will be the 11th Vande Bharat service and 12th Vande Bharat train in the country. The indigenously designed Vande Bharat train set is equipped with state-of-the-art passenger amenities. It will provide a faster, more comfortable and more convenient travel experience for rail users, boost tourism and promote economic development in the region, said a senior officer of the railway ministry.
The PM expressed gratitude for getting the opportunity to flag off India's state-of-the-art Vande Bharat express for Delhi. He pointed out that today is one of the rare instances in the history of Indian Railways that a Prime Minister has visited the same railway station twice in a very short period.
Also Read: PM Modi flags off Howrah-NJP Vande Bharat exp, other projects
Talking about his interaction with the school children and underlined the sense of curiosity and excitement about the train among them, Modi said "In a way, Vande Bharat is a symbol of India's enthusiasm and excitement. It represents our skills, confidence and capabilities", he said.