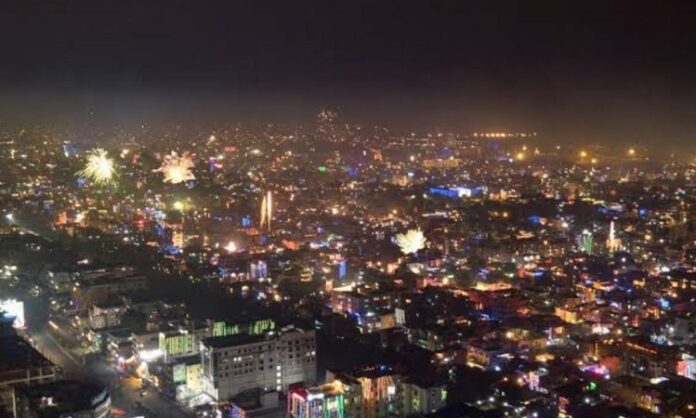 Patna: Patnaites breathed easy this time after Diwali, as the air quality remained in moderate category.
Bihar state pollution control board (BSPCB) claimed that PM10 concentration was high in Patna between 10pm to 6am along with increase in noise level in different localities. However, the pollution levels remained low this Diwali day as compared to levels assessed in the last five years.
In Patna, Boring Road and Patliputra area recorded the maximum noise level on Diwali night. The average noise level near Boring Road was recorded at 88.2 dB and Hindustan Coco Cola premise 76.6 dB on Monday 10 pm to midnight, which indicated bursting firecrackers in these localities, revealed a study conducted by BSPCB.
The study also showed deterioration in air quality index (AQI) in Patna on Diwali night for several hours. "Monitoring station near the DRM office recorded the worst AQI of 247 followed by SKM Gandhi Maidan 220, BIT-Mesra 195, Eco Park 178 and Planetarium 97 from Monday 10 pm to Tuesday 6 am. The prominent pollutants were PM 10, PM 2.5 and SO2. All these monitoring stations showed a rise in pollution levels in comparison to pre –Diwali readings", said a BSPCB report, released a couple of days after Diwali.
Also Read: Patna civic body gets anti-smog gun, gears up to fight air-pollution
BSPCB's media consultant Birendra Kumar said, "We conducted air and noise pollution study pre and post Diwali in different shifts. As far as noise pollution is concerned, three stations including Beltron Bhawan Shastrinagar, Parivesh Bhawan Patliputra and Zoological Survey of India Kankarbagh witnessed decline in noise level on Diwali in comparison to last year while two stations recorded increase in noise level. The PM10 and PM2.5 concentration was higher in the city in comparison to before Diwali."
"Various types of chemicals and heavy metals are being used for manufacturing firecrackers. Bursting these firecrackers lead to emission of hazardous micro particles which poses adverse effects on human health and environment", he added.
Also Read: Bihar to launch air quality forecast soon: BSPCB chief
According to the Central Pollution Control Board (CPCB), Patna's 24-hour overall air quality index (AQI) based on five monitoring stations stood at 172 at 4 pm which was classified as 'moderate'.
Other prominent cities like Muzaffarpur and Saharsa registered 'satisfactory' air quality. Arrah, Aurangabad, Begusarai, Bettiah, Bihar Sharif , Buxar, Chhapra, Darbhanga, Hajipur, Munger recorded 'moderate' air quality and Siwan recorded poor quality.
Patna's AQI on Diwali in past years:
Year                   Category         AQI
2021                  Poor               233
2020                  Poor               276
2019                  Very poor       345
2018                  Severe           431
(Source: BSPCB)