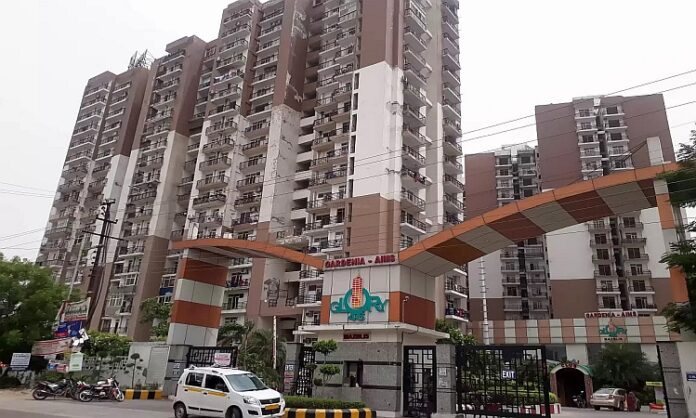 New Delhi: The New Okhla Industrial Development Authority (Noida) has sealed as many as 113 unsold flats of three projects of different developers on account of non-payment of dues, amounting ₹1,085 crore, officials said on Friday.
The Noida officials said that action were initiated against Gardenia Aims Developers Private Limited, Logix Infrastructure Private Limited and Gardenia Gateway India Limited. The project sealed are located in sectors 46, 137 and 75.
The Gardenia Aims Developers Private Limited is owed dues worth ₹603.15 crore to the authority. The authority carried out sealing operation of tower D2 on Thursday, which has 110 unsold flats, and project office located in sector 46 over non-payment of dues. Gardenia Aims project was approved on September 3, 2009 for 20 towers. Seven towers have been given occupancy certificate (OC).
In another action, the authority sealed two unsold flats, two store premises and the marketing office of Logix Infrastructure Private Limited in sector 137. This project was allotted on January 14, 2010 with 17 towers, of which 10 have been issued OC. The developer had an arrear of ₹379.65 crore Till March 31, 2023, officials said.
Also Read: Ambience starts offering possession of high-end houses in Noida
In another similar action, the authority has sealed one unsold flat located in sector 75 of Gardenia Gateway project, the land of which was allotted on January 12, 2012 for building nine towers. None of tower has been given OC by the authority. The builder owed dues of ₹103.38 crore to Noida.
Officials said that none of the three builders had applied in the reschedulement policy scheme of the authority. The authority had to take harsh action against the builders as cumulative outstanding dues on them crossed ₹1085 crore and they failed to clear it despite repeated reminders.
Also Read: State agencies plan cracking down on illegal apartment in Patna's outskirts
Khabarinfra sought to know the builders' version, but their response was awaited till the filing of this report.
Noida officials said that about seven builders have applied for rescheduling of payment of the dues before the deadline of March 31. They said that the authority, as directed by the Noida chief executive officer Ritu Maheshwari, would issue recovery certificate (RC) against defaulter builders, who have neither shown interest in the Authority's reschedulement policy to clear their dues nor sought permission for flat-wise registry in their projects. "Barely 19-20 developers have come forward under the authority's flat-wise registry scheme," said an official.
Also Read: LML Homes gets 5-acre land in Chennai, to build premium flats
As per the rough estimate, the builders owed about ₹40,000 crore to the authorities, which include ₹26,000 crore to the Noida and ₹14,000 crore to Greater Noida. The Noida has in March 2023 put out a list of total group housing projects on its website for public's convenience. Out of a total of 115 group housing builder projects, builders of around 80-90 projects have pending dues. Only 47 out of 115 societies have been occupancy certificates.