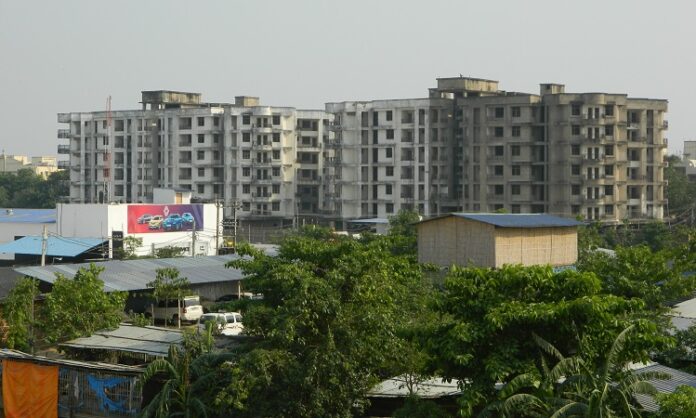 Patna: Are you planning to buy a flat or sign a lease deal for shops in a multi-storeyed shopping complex in Patna? Make sure that the building you are looking for to buy is duly sanctioned by the appropriate authority. Your little negligence and crave to having flats or shops at cheaper prices may land you in a longer trouble.
The Real Estate Regulatory Authority (RERA) has asked its officials to spot all those premises, particularly those coming up the city's outskirts, which are being built without adhering to the stipulated norms. The members of the public have also been asked to apprise the authority about any such construction, whose maps were not sanctioned the appropriate authority of the urban local bodies (ULBs).
Officials of the RERA said that they have laid their hands on more than 100 multi-storey residential buildings and shopping complexes, which are being constructed without their maps being approved by the ULBs. "Many builders have begun building the multi-storey buildings in Danapur, Bihta, Maner and in southern part of the city. They did not get their maps sanctioned by the appropriate authorities, but instead got them approved by the Panchayats, which is illegal," said an official.
Also Read: RERA cracks whip on Agrani Homes, complainants to get refund for flat advance
Deputy Chief Minister Tarkishore Prasad, who is also the Minister of Urban Development and Housing Department (UDHD), said that only ULBs are authorised to approve the building maps. "However, it's often found that Mukhiya Jis are passing the maps, which is illegal and hence occupants of such premises are liable for denial of registration, occupancy certificates, water and power connection, etc," said Prasad.
Citing the complaints pouring in from various individuals from Phulwari Sharif, Danapur and Bihta, a senior officer of RERA said that all such buildings, whose maps were not approved by the ULBs, would be considered illegal. "The owners of such illegal will not qualify for getting the completion and occupancy certificates. The buildings can be demolished and builders as well as the owner of the flats or shops in illegal buildings can be fined," he added.
Also Read: Infrastructural growth holds key to Bihar's progress
Mahesh Rastogi, who paid advance for a flat in Janipur of Phulwari Sharif area, is in a fix after he realized that the apartment in which he intends to purchase the flat is not approved in conformity to the stipulated bylaws. "I am thoroughly confused once I got to know that the Bihar Real Estate Tribunal is contemplating issuing notices to the builder and promoter of his apartment," said Rastogi, a government employee posted in Bagaha.
An official of the UDHD said that the builders were indulging in constructing flats in contravention to the stipulated Building bylaws as they did not require sparing open land for bylanes, green area, parking, sewerage facility and installing the firefighting equipment in the premises. "It helps them save huge expenditure to adhere to the building bylaws. The concerned Municipal authorities have been directed to stop work on all buildings that are being construction against the Building bylaws," he said.