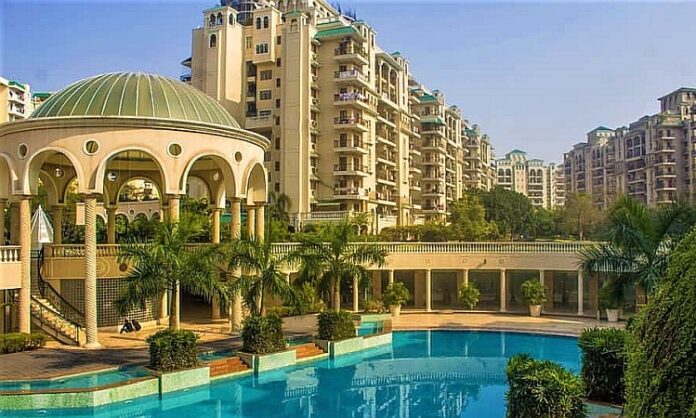 New Delhi: Amidst the growing demand for high-end housing, the Ambience Tiverton-a unit of the Ambience Group, has announced the commencement of possession of its luxury apartments. The project is located on the prime location of Sector-50, Noida, and features world-class amenities and services.
The luxury real estate market in Noida has been witnessing an upward trend in recent years, with a surge in demand from affluent buyers seeking premium properties. Against this backdrop, Ambience Tiverton has received an overwhelming response from homebuyers and investors alike, with possession commencement being eagerly awaited. The cost of flat starts at ₹2.50-crores.
Also Read: LML Homes gets 5-acre land in Chennai, to build premium flats
According to the Ambience Tiverton officials, the project offers world-class amenities and services and is poised to redefine luxury living in the city. With the delivery of its luxurious apartments, Ambience Tiverton is set to make its mark in the flourishing Noida real estate market.
Ambience Group has also announced a substantial price hike for the last few remaining apartments at Tiverton. The decision comes amidst a near sold out position and the growing demand for high-end properties in the area, making Tiverton an attractive investment opportunity for those seeking a luxurious lifestyle.
Also Read: After decade's wait, Bihar MLAs' home dream start realising
The luxury housing project is spread across 3.5 acres of land and features 3 & 4 BHK apartments and penthouses. With its prime location and luxurious amenities, Tiverton is the perfect choice for those looking to invest in a luxurious home.
"Homebuyers today are looking for more than just a home, they are looking for an experience. The luxury real estate market in Noida has seen an uptick in demand over the past few years, with buyers seeking homes that offer world-class amenities, excellent connectivity, and an unparalleled lifestyle. We are confident that our buyers will appreciate the value of their investment in Tiverton, which offers a luxurious lifestyle with excellent connectivity to the city's key landmarks." said Ankush Kaul, chief business officer, Ambience Group.
Also Read: 36% women look for home in ₹45-90 lakh price range: Survey
The Ambience has also announced a carnival, 'Ambience Tiverton-The Final Stretch' on April 8-9, which promises to be an extravaganza like no other. The carnival is set to take place at Ambience Tiverton in Noida and will be the last of its kind as they will reach a "sold-out" status with the carnival, making it an unmissable opportunity for those looking to experience something truly unique and unforgettable.
Ambience Group is a leading real estate developer in India, with a track record of over three decades in delivering premium residential and commercial projects. Ambience includes some of the most sought-after properties across Delhi NCR, including residential complexes, commercial spaces, malls, and hotels.