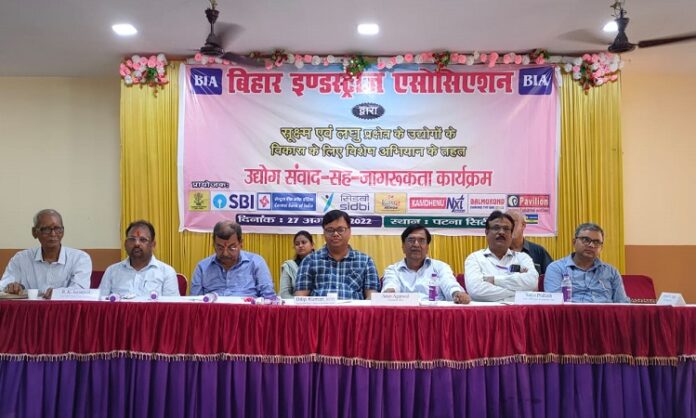 Patna: Functionaries and industrialists affiliated to the Bihar Industries Association (BIA) on Saturday conducted an outreach camp in Patna City to sensitise entrepreneurs about various incentive schemes launched by the government for promotion of medium, small and micro enterprise (MSME) sector. The main objective of the programme is to avail the maximum share of fund allocated by the Central government for promotion of the MSME industries.
A large number of entrepreneurs participated in the event, which was attended by senior officers of different trade bodies, banks, agriculture department and MSME office.
Addressing the gathering, BIA general secretary Ashish Rohtagi blamed the lack of awareness to avail the incentives offered by the Central government for proliferation of industries. "It's a matter of concern that Bihar, which account of about 10% of the total population of the country lagged far behind in industrialisation. "The Central as well as the State Governments have come out with great incentives for MSME sector. Entrepreneurs need only to know the valid process to claim the incentives," he added.
Earlier in his welcome address, BIA president Arun Agrawal said small and micro sector industries could play an important role in resolving the issue of joblessness. "Small and micro sector industries, which grow up with not a huge investment, could catapult financial condition of the society and the State," added Agrawal.
Also Read: BIA launches drive to tap fund for small, micro sector growth
Special Secretary of the State Industries department Dilip Kumar detailed about various schemes for industrial promotion and incentive schemes of entrepreneurs. "Recently launched industrial investment incentive policy, startup policy and other schemes are there to help entrepreneurs set up industries," said Kumar, adding that the departmental officials were eager to help entrepreneurs to give push to rapid industrialisation.
Technical teal lead of the Agriculture Department Puja Sharma gave an overview about investment opportunities in agriculture sector particularly after the announcement of the new investment policy 2020 and incentives being doled out to investors under the Pradhan Mantri Formalisation of Micro food processing Enterprises.
Officials of the State Bank of India and Indian Bank reiterated their resolves to lend a helping hand to to entrepreneurs in getting financial support to their concrete business ideas. Navin Kumar represented the Indian Bank at the outreach event.