Bengaluru: With the Sabarimala Ayyappa temple opening for public after two year Covid break, Karnataka state road transport corporation (KSRTC) has launched its specialised services to Pampa to cater to the heavy rush of devotees. No wonder that the specialised bus service of the state transport corporation is high demand.
As Sabrimala Ayyappa temple are inaccessible for many private transport services, the high-end service provided by the KSRTC to Pampa, is becoming quite popular. Nilakkal is the last destination for private vehicles. Due to further travel constraints, many devotees have no alternative but to park their cars and continue their journey using Kerala buses or the electric vehicles that the Devaswom Board has procured. The KSRTC has generated ₹8 lakh in ticket revenue in just five days as a result of the significant demand this has generated.
"For the past two years, COVID has blocked us from leaving, and we weren't able to travel by vehicle from Nilakkal. So I made the decision to take this KSRTS high-end Volvo single axle service for the first time, which offer a positive travel experience overall because we didn't have to worry about the Nilakkal parking situation. However, I would advise the company to run it from the Salem route rather than this one in Mysuru because it is a highway," said Abhilash from Bengaluru.
According to the reports, the KSRTC only runs a single-axle semi-sleeper Volvo bus from Bengaluru to Pampa on days between Thursday and Sunday, returning from Pampa. Till December 6, 317 passengers have already taken a trip, earning ₹3 lakhs in revenue. Looking ahead, 380 tickets have been reserved through December 31, earning a total of ₹5 lakhs.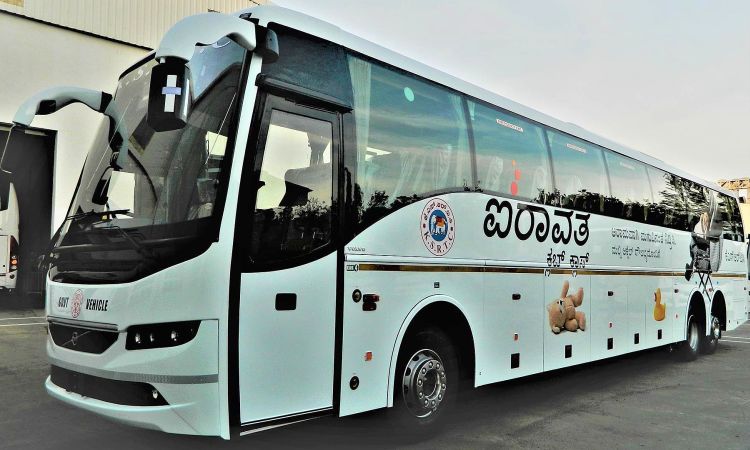 "The response from the public has been overwhelming considering that we only run buses four days a week and earn ₹45.77 per kilometre. Additionally, the reason we run buses on the Mysore route is to make Mysuru the pickup destination so that pilgrims from Mysuru can use the facility. We are intending to operate a multi-axle Volvo in a few days on a trial basis due to the positive reaction because we are unsure if running the bus on the route will be feasible," explains a senior KSRTC official.
Also Read: Festive rush brings relief to cash-strapped Karnataka transport corp
At 2.00 PM, the Airavat Volvo buses depart from Bengaluru's Shantinagar bus stand and arrive at the Satellite bus station on Mysore Road at roughly 2.31 PM.  It will reach Mysuru around 4.30 PM and arrive at Pamba (Sabarimala) around 8.15 AM the following day. Around 6.01 PM on the same day, the bus will depart from Pampa and return to Bengaluru around 9.45 AM.
Airavat Volvo Single Axle
From 1st to 6th – 317 passengers travelled and collected ₹3.06 lakhs
From 7th to 31st – 380 seats have booked and collected ₹5.49 lakhs (Till now)