Bengaluru: Commuters are in a fix after the state government banned operation of auto services offered by app-based aggregators, claiming it "illegal". It has also stipulated a fine of ₹5,000 for vehicles found running without a three-wheeler licence.
Now finding an auto that charges by the meter and also that the driver agrees to the commuters destination in Bengaluru has again become more challenging. They are urging the government reconsider the licences to run the app-based auto services at least in the city.
"Because not every individual now resides on the main road, it is now quite difficult to find an automobile running as per the norms. In the past, we used to book the auto from the doorstep. To find an auto, we now have take a half-kilometer walk. Most of the time, drivers refuse to take us where we want to go and, if they agree, extra money has to be paid," said Abhilash, a daily commuter.
Some commuters are left with no choice, particularly if they need to get somewhere in a hurry. Many consumers are unaware of their options for alerting authorities to such hikes. However, the amount will be known and the destination will be set in the app. Therefore, it would be preferable for the government to revise the permit and allow them to continue, added Abhilash.
Also Read: Passengers crowd Bengaluru metro after pandemic pause
The Karnataka transport department recently sent a notice to app based aggregators like Uber, Ola and Rapido, which run auto services in Bengaluru, ordering them to stop services in Karnataka. The move came after several commuters raised complaints about the high prices charged by the aggregators.
The app-based cab aggregators charged a minimum of ₹100 for auto rides. However, the minimum government-mandated auto fare is ₹30 for the first two kilometres, and ₹15 for every subsequent kilometre.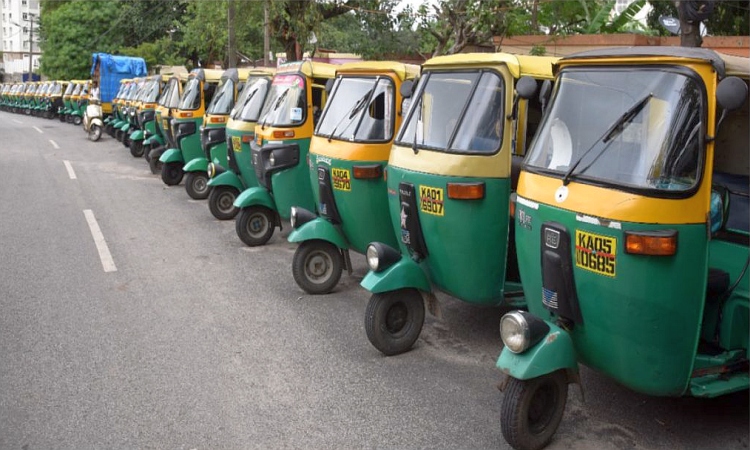 A statement released by the transport department claims that the aggregators are not authorised to operate auto rickshaws without getting a three-wheeler licence. "If an application for the license is submitted by the aggregators, it would be forwarded to the government for action. The government will take a decision on access and convenience fee" says the department statement.
Commenting on this, Bengaluru Auto Drivers Association, secretary Rudra Murthy says "Both of India's top ride-hailing businesses, Ola and Uber, have been operating in Bengaluru for more than five years without the necessary permits. Now, following complaints from passengers, the department is taking action against them. What did they do during all of this time is the underlying question. These app-based aggregators looted the money for many years because the minimum charge was of ₹100. So we request that the government should work on the permit and allow them to play or to develop a separate app".
Also Read: Bengaluru, Varanasi airports to start FRT for hassle-free boarding from Aug
It is claimed that a committee of 13 auto rickshaw unions put forth a seven-day deadline to ban all the aggregator apps. They demanded that the Karnataka government should also create an app like the Kerala government's Kerala Savari app, which is the country's first online taxi service owned by a state government.
According to sources, app-based aggregators like Uber, Ola, and Rapido are connected to 70,000 autos throughout Bengaluru. There were rumours that the availability of cab services was also impacted.
Also Read: After Bengaluru deluge, people count losses
Tanveer Pasha, president, Ola, Taxiforsure and Uber Drivers and Owners Association clarifies "Only the auto services have been affected. Our 40 thousand cab services attached to app based are running normal".