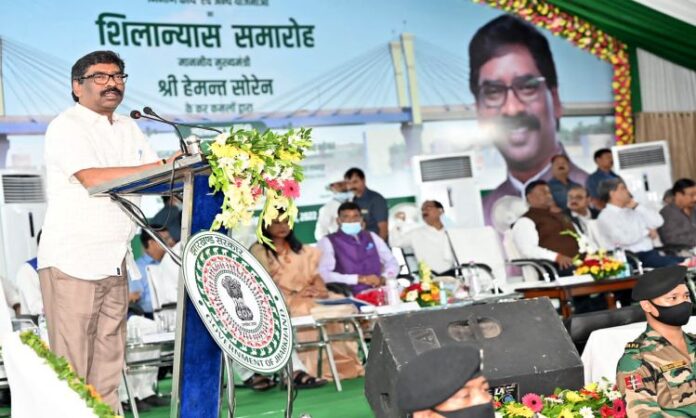 Ranchi: Chief Minister Hemant Soren has laid the foundation stone for three major road projects, amounting to ₹666.13 crores, which promise to get the capital city rid of frequent traffic congestions.
The road projects include building of a four-lane elevated/flyover from Siramtoli Chowk to Mecon Chowk via Rajendra roundabout, four-laning of existing road from Newari to Namkom rail over bridge (ROB) via Booti More and Kokar Chowk and strengthening of road from Argora Chowk to Kathal More.
The projects would be executed by the Road Construction Department (RCD), which has been given 20-months time by the CM to finish them at all costs. Officials, however, said that the strengthening of existing road from Newari near ring road on Hazaribagh road to Namkom via Kokar and Kantatoli chowk would be difficult as it required acquisition of additional land.
Secretary of the RCD Sunil Kumar, however, said that the Newari-Namkom stretch had sufficient right of work (ROW), barring a few stretching of encroachment, which is not of permanent nature. "The detailed project report of this vital stretch of road that connects Hazaribagh and Jamshedpur via Ranchi, costing about ₹197 crore, has been approved by the Cabinet and construction on it would start shortly," added the secretary.
With your cooperation in these schemes being launched from Sarna Akhada, we will try to complete them ahead of schedule. He was addressing the people at the foundation stone laying ceremony of construction work of four lane flyover/elevated road from Sirmatoli Chowk-Rajendra Chowk-Mecon roundabout and other schemes by Road Construction Department at Sarna Sthal Maidan, Sirmatoli, Ranchi today.
Also Read: Jharkhand lays foundation of world trade centre for export promotion
Earlier on Friday, CM Soren hoped that the new projects would ease traffic congestions on major roads inside Ranchi city. The government would provide appropriate compensation to those whose land has been acquired. The entire city will benefit from the construction of roads.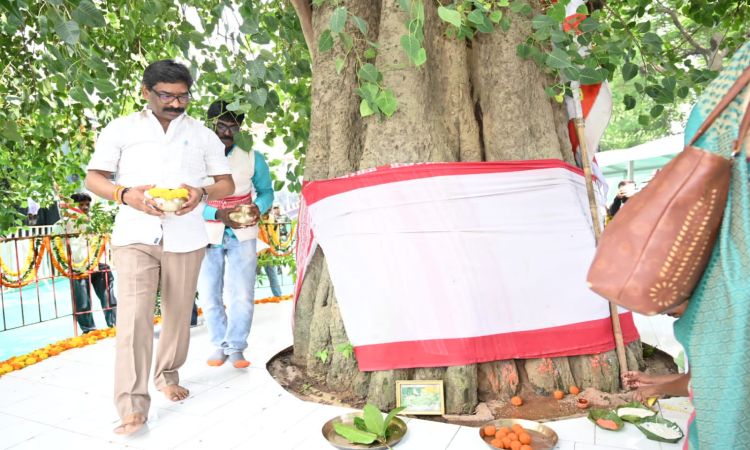 The CM exhorted the people to take care of the government property as their own and help the agencies facilitate smooth traffic system by obeying the rules. "Sometimes, people ignore road rules in order to take shortcuts in a hurry and met with accidents. We must work together in pursuance with the spirit of cooperation to keep the society clean," added Soren.
The projects:
The 2.34km long four-lane flyover from Siramtoli to Mecon chowk across Hatia-Ranchi railway track would be built at the cost of ₹339.69 crore.
Also Read: Delay in land acquisition threatens to stall Kantatoli flyover work again
The 15.21km long four-lane road from Newari to Nakmom via Booty More, Kokar Chowk and Kantatoli chowk would be made on the existing alignment of the two-lane road at the cost of ₹197.28 crore. The road would connect with four-lane Ranchi-Ramgarh toll road.
The 5.30 km stretch from Argora Chowk to Katahalmor would be strengthened and made in four-lane at the ₹130 crore. Currently, it's a two-lane configuration and generally remain congested as it's connected to Itki road, which further leads to Gumla.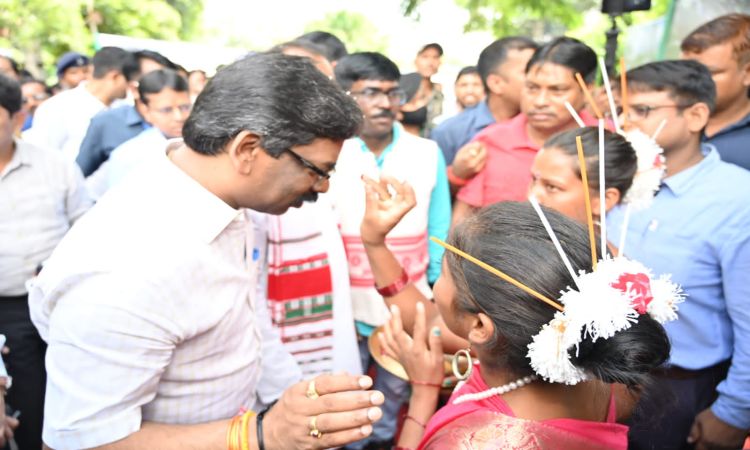 Prominent guests at foundational laying event
Chief Secretary Sukhdev Singh, Development Commissioner Arun Kumar Singh, RCD Secretary Sunil Kumar were also present at the event, which was participated by Labour and Skill Development Satyanand Bhokta, MPs Vijay Hansda, Sanjay Seth, Mahua Maji and Ranchi MLA CP Singh.