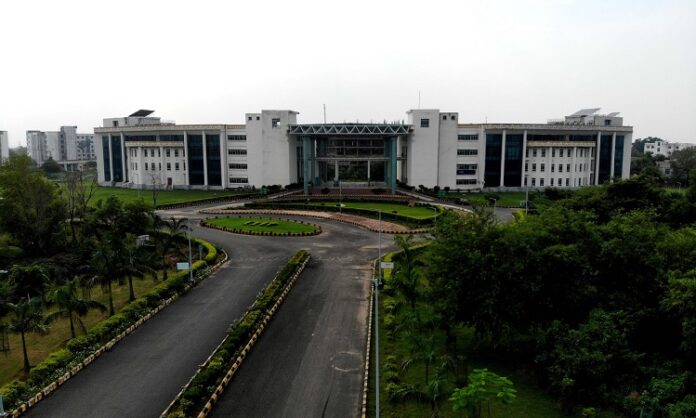 Patna: The Indian Institute of Technology (IIT), Patna, is set to open its door for the students pursuing computer science, information technology (IT) and management courses, to get admission without clearing the joint entrance examination (JEE) mains or advance.
It has tied up with the Chandragupt Institute of Management Patna (CIMP) and Microtek Educational Society to launch six hybrid undergraduate courses of computer science and business management streams. The courses to be launched are computer science and data analytics, artificial intelligence (IA) and cyber security, computer science and accounts, financial management, business management and management analytics.
Briefing newspersons about the memorandum of understanding (MoU) among the three institutions, IIT Patna Director TN Singh said that the new courses would be of great help for those students, who despite having talent and aptitude, at times fail to clear the mains and advance competitive exams.
"Students often get burdened the burden to clear competitive exams and spends years in the institutes to prepare the same. The IIT has framed the three-year course for those talented students, who get impressive marks in other competitive exams like Central University Entrance Test (CUET), National Talent Search Examination (NTSE), Scholastic Aptitude Test (SAT), Innovation in Science Pursuit for Research (Inspire) state-level tests, etc, can take admissions in the hybrid courses," said Singh.
Also Read: IIT Patna signs MoU with Redinent to foster R&D in cybersecurity
Director of CIMP Rana Singh and General Secretary of Mircotek Educational Society Neeraj Rajhans said that the courses would be conducted in both online and off line mode. "The important feature of these courses is that the students can do the courses, while studying other subjects. They will get certificate on completion of one year of study, diploma after two years and degree after successfully completing the courses in three-year" said the CIMP Director.
The Microtek representative said that the students can resume the course after dropping it for one year. "Additionally, they would be provided six-months paid internship, after which all the successful students would be likely to get handsome paying jobs," said Neeraj Rajhans.
Also Read: IIT, Madras, launches centre to study old skills of ancient India
The IIT Patna director said that to begin with, they would enroll 250 students in each course. Dean, Academics, IIT, AK Thakur and administrative officer of CIMP Kumud Kumar also briefed the salient features of the courses.