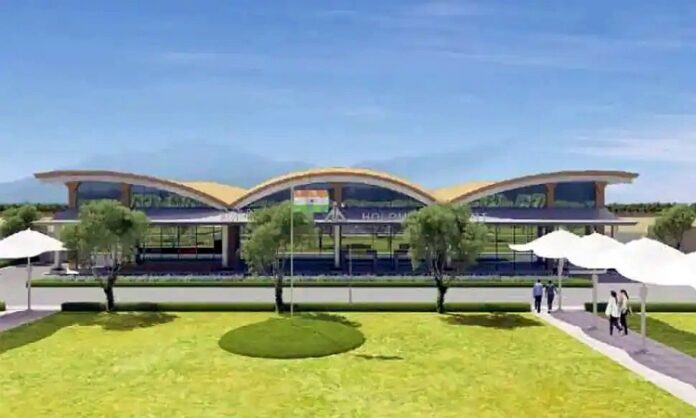 Itanagar: Scripting a new chapter in aviation, the most popular budget airline IndiGo on Tuesday made a successfully touch down of its aircraft at the newly constructed Donyi Polo Airport, Itanagar.
Prime Minister Narendra Modi is expected to inaugurate the much-awaited airport later this month, said a senior officer of the Airports Authority of India (AAI). Modi had laid the foundation stone of the airport project on February 9, 2019.
Once opened, Donyi Polo airport will be the first airport in Arunachal Pradesh and the eastern most state of the country. The other nearest airport from Itanagar is the Lilabari airport, which is about 80 km far in North Lakhimpur district of Assam.
Taking to Twitter, Arunachal Pradesh chief minister Pema Khandu stated, "Glad to share @IndiGo6E flight made a successful test landing at Donyi Polo airport, Itanagar today. A milestone moment as we're making every possible effort to ensure ease of travel in our state. Gratitude to all for contributing their bit to improve people's ease of life!"
Also Read: AAI undertakes ₹381 cr makeover plan for Tuticorin airport
Tagging Prime Minister's Office and Union minister for civil aviation Jyotiraditya Scindia while sharing a 1.07-minute video of an IndiGo plane landing at the soon-to-be-opened airport, Khandu said: "It's so satisfying and fulfilling to see IndiGo flight making a successful test landing at Donyi Polo airport. Ensuring better connectivity to our people is a top priority of my government. Rest assured we'll ensure we've many more flights from Itanagar."
The AAI ground staff gave a cannon salute to the aircraft up on its maiden landing at the newly-built airport. The DGCA last month granted an aerodrome licence for public use to the AAI for the airport located at Hollongi close to, Itanagar paving the way for the operationalisation of commercial flight services.
Also Read: After 'land' boost, Ranchi's Birsa Munda airport set to vie for int'l tag
The airport has been built by the AAI in an area of 685 acres at an estimated cost of ₹660 crore. It can accommodate 300 passengers during peak hours with eight check-in counters. It has 2,300 metre long runaway, suitable for landing and take off for boing 747.
The soon-to-be-inaugurated airport will enhance the air connectivity of the landlocked state of Arunachal Pradesh and will connect the Northeastern state with other major cities of the country, besides giving a major boost to its tourism sector, the sources said.