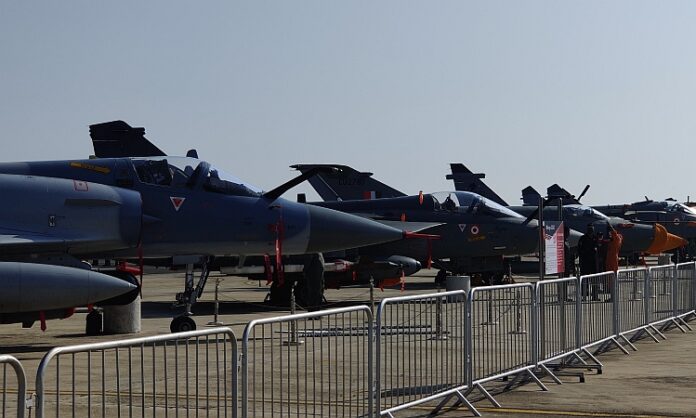 Bengaluru: The Bruhat Bengaluru Mahanagara Palike (BBMP) on Friday issued a public notice, announcing ban on sale of non-vegetarian food and meat in 10-km radius of Indian Air Force Station, Yalahanka, in view of the proposed Aero India-2023 show. The ban would remain effective from January 30 to February 20.
The much talked-about Aero India show, the largest ever aero show, will be held in Bengaluru from February 13 to 17. More than 725 firms of different countries dealing in aerospace and defence have registered themselves to participate in it.
Also Read: Signature drive in Bengaluru to conserve Hesarghatta grasslands
Raksha mantri Rajnath Singh had said that Aero India was not just a business event, but it also also aimed at strengthening India's relations with other countries. He had also underlined the importance of these events for the business ecosystem of the states in which they are organised as well as available opportunities.
Officials said that the BBMP took this type of measures, banning sale of meat and non-vegetarian eatables every year ahead of the Aero India show to prevent the bird feeding on offal hitting the aircraft taking off from the runway.
Also Read: Karnataka set to unveil A&D policy soon, eyes ₹60,000 cr investment
"It is intimated that, Aero India-2023 show is scheduled to be held at Air force station Yelahanka from Feb 13 to 17. On account of this, it is to the notice of general public and proprietors of meat stalls, non-vegetarian hotels/restaurants for closure of all meat/chicken/fish shops and prohibition on serving/sale of non-vegetarian dishes within 10 km radius of Air Force station Yelahanka from 30th January 2023 to 20th February 2023. Any violation of this will attract punishment under BBMP act 2020 and Indian Aircraft rules 1937 rule 91," the notice issued by BBMP, Yelahanka zone, said.
"Within a 10 kms radius of the Air Force Station the sale of meat is banned and even the restaurants cannot sell non-vegetarian dishes. This is to prevent the birds feeding on offal and could be a potential risk to the aircraft taking off. This is a preventive measure," a BBMP official said.