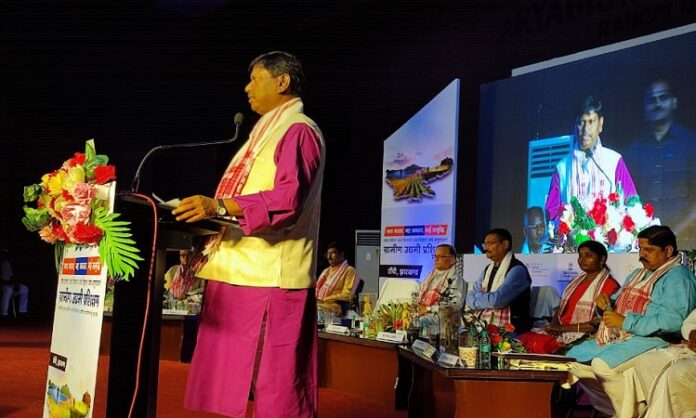 Ranchi: Union Tribal Affairs Minister Arjun Munda on Saturday launched the phase-II of Grameen Udyami Project, an initiative of the National Skill Development Corporation (NSDC), to impart skill training among tribal youths and make them job ready in accordance with Prime Minister Narendra Modi's vision for Atmnirbhar Bharat.
Organised in partnership with Seva Bharti and Yuva Vikas Society in Ranchi, the two-month workshop aims to impart functional training to about 250 tribal youths, most of them hailing from Jharkhand, on various skills of entrepreneurship and self-employment.
"The professional training offered to the tribal youths seeks to enhance representation of the communities in the workforce, ensure their holistic development to make them self-reliant and contained within their respective geographies," said Arjun Munda, also the former Chief Minister of Jharkhand, in his speech at the inaugural event.
Minister of State for Skill Development & Entrepreneurship Rajeev Chandrasekhar and Minister of State for Tribal Affairs Bishweswar Tudu also attended the event through virtual mode.
What is Grameen Udyami Scheme?
Grameen Udyami is a unique multiskilling project, funded by NSDC that aims to train 450 tribal students in Madhya Pradesh and Jharkhand. The project is being implemented in six states such as Maharashtra, Rajasthan, Chhattisgarh, Madhya Pradesh, Jharkhand and Gujarat.
Speaking on the occasion, Munda stated that the workshop focussed mainly on strengthening sustainable livelihood for tribal populations. "The Central government has sanctioned a budget of ₹85,000 cr. exclusively for tribal areas. There is so much potential and ability in the tribal youth that all we need to do is lay down the right avenues for them to use their talent in the right places," emphasied the Union Minister.
He said that Grameen Udyami Scheme will turn out to be a game changer for the tribal communities of Jharkhand and will extend the right opportunities to them to stand on their own feet. He also urged the functionaries of gram panchayats, villages, and blocks to take these initiatives to youth for their progress.
Youths to be trained for different job roles
The training under the project will be conducted in such a way that the youths would become made ready to cater to the current job market as per the local economy. Professionals engaged for conducting the workshop said that the youths would be trained on different trades like electrician & solar PV installation technique, plumbing & masonry, 2-wheeler repair & maintenance, information technology/IT enabled services and e-governance and farm mechanisation.
Objective of the project
The two-month workshops aims to achieve the objective of giving boost to rural and local economy by offering suitable jobs to the tribal youths in their vicinity. The programme also seeks to enhance employment opportunities, reduce forced migration due to lack of local opportunities and encourage conservation of natural resources. "Due to lack of skill and education, organized sectors have very poor contribution in tribal livelihood as compared to the national average. Therefore, initiatives like Grameen Udyami project are critical for their betterment and to ensure their livelihood generation," observed Munda.
The background
Grameen Udyami Yojana is implemented under Sansadiya Parisankul Yojana. A two-day conference of Honorable MPs was held in Mumbai to discuss the upliftment of tribal communities in January 2020 in which various experts and government organizations shared their experiences. Further, Scheduled Tribe organizations called for a 'Parliamentary ST Cluster Development Project' which has been initiated. Under which, 49 clusters in 15 states of India have been selected by 40 tribal MPs of Lok Sabha and Rajya Sabha. Under their leadership, the scheme in respective clusters will be implemented. One development associate is appointed by the MPs in each cluster.
In the first phase of training, candidates were mobilized from rural and tribal areas of Maharashtra, Rajasthan, Chhattisgarh, Madhya Pradesh, and Gujarat. Since candidates were mobilized from the rural areas, transportation, boarding & lodging was provided to candidates so that they do not miss out the learning opportunity due to lack of resources. In Bhopal, Madhya Pradesh, training of 157 candidates started in seven batches in the month of May,2022 and approximately 133 candidates completed the training successfully on June 27th, 2022.
Tribal Youths to play pivotal role in Atmnirbhar Bharat
Minister of State for Skill Development and Entrepreneurship Rajeev Chandrasekhar said that the country has recently celebrated Azadi ka Amrit Mahotsav to honour India's rich past and committed itself to Amrit Kaal, a vision for new India for the twenty five years. "This new India will bring new opportunities and better prospects for India's youth. The tribal communities take precedence in our efforts to propel India's economic growth," he added.
Tudu expressed that a nation can develop if cities develop and cities will develop, if we invest in the development of villages. "And a key component of this is to provide quality education to our tribal communities so that several prospects open-up for their growth," he added.
V Satish, National joint secretary general of the Bharatiya Janata Party, national president of BJP's scheduled tribal unit and RS Member Samir Oraon, Jharkhand BJP chief Deepak Prakash and Gumla MLA Shivshankar Oraon were prominent among those present on the occasion.