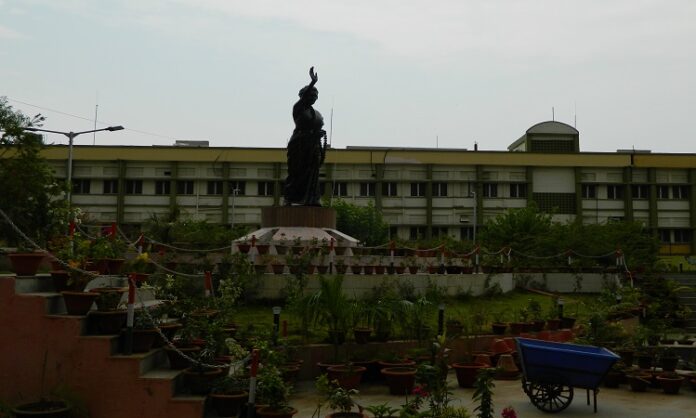 Patna: Want to get rid of heavy lenses, but your pocket does not allow heavy expenses incurred on getting it operated at private hospitals or those located far away from home? Try at the Indira Gandhi Institute of Medical Science (IGIMS) at Patna. A premier medical institution of the Bihar Government is set to open the facility of refractive surgery on August 16 at a highly subsided rate.
The IGIMS has installed state-of-the-art equipment, costing around ₹3.5 crore, to conduct the eye surgery with clinical precision to help the patient do away with lenses. The trial of machine-powered operation has been conducted successfully at the Regional Eye Institute (REI) of the IGIMS. State Health Minister Mangal Pandey will formally inaugurate the advanced surgery machine at the REI premises in presence of IGIMS Director Vibhuti Prasanna Sinha. The Director said that people of Bihar would not need going to other states for the surgery, which could be available at the cost of ₹20,000 against the charge of private hospital ranging between ₹35,000 and ₹40,000.
Surgery will be performed for those above 20 yrs
Officials of the IGIMS said that all those above 20 years of age are eligible for refractive surgery. This surgery is done for those who have to wear thick glasses with power. Glasses are removed by LASIK-laser surgery. This surgery is possible when the power of the eyes is fixed. This surgery cannot be performed, if the power continues to vary. Power of eye generally stabilizes after one attains the age of 20 years. Eyes of the patients are examined with a coronal topography machine before surgery.
Separate building for ophthalmology
A separate three-storey building in the IGIMS premises will be constructed for ophthalmology department at IGIMS. The new building will have 200 beds and equipped with all kinds of eye related facilities.  The patients will no longer need to go outside for treatment of any type of disease.
Also Read: Bihar Govt approves new medical college & hospital in Supaul
Facilities at REI
All eye related medical facilities have been made available under the same roof at the REI. Patients can have corneal transplant, eye bank, cataract surgery with phaco machine, retina surgery, glaucoma, retinopathy prematurity surgery (ROP) in newborns, various eye tumors, acuplasty, squint, diabetic retinopathy at the REI.