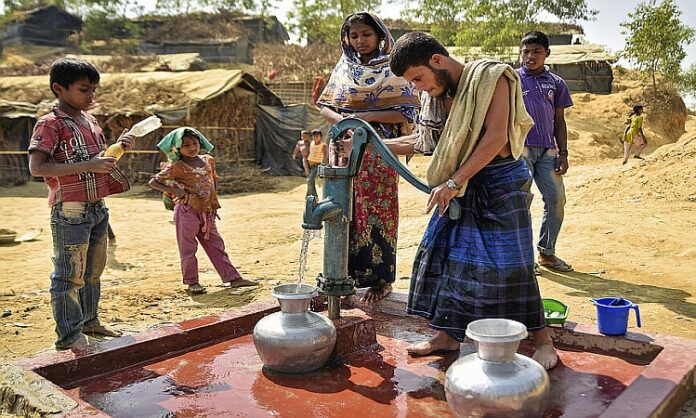 Patna: Groundwater in more than 18 districts of Bihar is not safe for drinking. Arsenic has been found in drinking water in these districts. Arsenic levels in these districts are reportedly higher than the WHO standards. The number of gallbladder cancer patients in the city is increasing by the day after consumption of arsenic induced water. This is revealed in a research by Mahavir Cancer Institute, Patna.
Bhojpur, Bhagalpur and Buxar most affected
In-charge of research department, Mahavir Cancer Institute, Ashok Kumar Ghosh, who is also chairman of the Bihar State Pollution Control Board (BSPCB), said water samples of more than 18 districts of the state contained toxic chemicals including arsenic and fluorides. Reports suggest that districts like Buxar, Bhojpur and Bhagalpur are worst affected to to high contamination of water. Arsenic levels in samples from these are alarmingly high.
Also Read: There will be marked change in Yamuma water by year end: Union Minister
Every year, thousands of people are arriving for cancer treatment
In addition, arsenic levels have been found to be high in people living on the banks of the Ganges. The research areas include Patna, Saran, Vaishali, Samastipur, Gopalganj, West Champaran, Muzaffarpur, Sitamarhi, Madhubani, Supaul, Araria, Kishanganj, Madhepura, Katihar and Munger. Ghosh said that 3,000 to 4,000 round gallbladder cancer patients from these areas are coming to Mahavir Cancer Institute for treatment every year. During the research, blood and teeth samples of people aged 15 to 70 years were collected and analyzed. The results are vary serious.
4600 hand pump water tested
Water samples from 4,600 hand pumps were collected from different districts and tested over a long period. In addition, 30% of the sources revealed that the arsenic content in the water of these areas is many times higher than the WHO standards.
Arun of the research department said that the highest incidence of gallbladder cancer was seen among women. Of these, 16.9% of women and 8.3% of men are affected by gallbladder cancer and are reaching for treatment at Mahaveer Cancer. He described arsenic as a sweet poison that is quite difficult to detect. He has also suggested getting such water tested.
Background
Bihar is one of the most populous states in India and is facing a major water crisis due to arsenic, iron and fluoride contamination. Arsenic is a naturally occurring element found in rocks and soil, and can enter water sources through industrial and agricultural activities. Iron is also naturally occurring, but can be released into water sources through corrosion of pipes and other infrastructure. Fluoride is a naturally occurring element, but can be released into water sources through industrial activities.
Also Read: Centre mulls plan to strengthen water testing facilities in villages
Arsenic contamination of water is a major health concern in Bihar, as it can cause skin lesions, cancer, and other health problems. Iron contamination can cause discoloration of water, and can also lead to health problems such as anemia. Fluoride contamination can cause dental and skeletal fluorosis, which can lead to discoloration of teeth and bones.
The government of Bihar has taken steps to address the water contamination issue, such as setting up water treatment plants and providing safe drinking water to affected areas. However, more needs to be done to ensure that all water sources are safe for consumption. The government should also focus on educating people about the dangers of consuming contaminated water, and providing access to safe drinking water.
NHRC takes suo motu cognisance of hazardous mix in water
The National Human Rights Commission, NHRC, India has taken suo motu cognizance of a media report quoting the recent Bihar Economic Survey report 2021-22, tabled in the Assembly, that in 31 of 38 districts of the State the groundwater is contaminated with Arsenic, Fluoride and excessive Iron. These may be causing serious health hazards including, among others, liver and kidney related problems. According to the media report, in all these districts, the rural areas in particular are more impacted.
The commission has observed that the contents of the media report, if true, raise a serious issue of human rights violation. Accordingly, it has issued notices to the Chief Secretary and Secretary, Public Health Engineering Department, Govt. of Bihar calling for a report within six weeks. It should include safety measures taken to provide potable water in those districts and also the implementation of the scheme under "Har-Ghar-Jal-Nal-Yojana". The Commission has also asked the State Pollution Control Board to submit the report on the random sampling of groundwater.
The media report, carried on 3rd March, 2022, also revealed that the groundwater in 30,272 rural wards is chemically contaminated. 4,742 rural wards of 14 districts situated along the Ganges are particularly affected by arsenic, 3791 rural wards of 11 districts are affected by fluoride and 09 Koshi basin districts and a few areas in other districts have excessive iron.