Patna: Barely six days of its much-hyped inauguration, a portion of at grade structure of the JP Ganga Pathway—a high speed corridor along Ashok Rajpath on the bank of River Ganga in Patna—caved in during the first brush with pre-monsoon shower on Thursday. Being built on the pattern of Mumbai's Sea Link by Navayuga Engineering Company, Ganga Pathway is a dream project of Chief Minister Nitish Kumar.
Although it is a minor portion of the pathway sank in, Bihar State Road Development Corporation (BSRDC) officials said that it might lead to major damage the main thoroughfare, if the causes of mishap are not detected and rectified. "The alluvial soil has been used to build the at grade structure, it is prone to sink in under the impact of heavy rains," said an engineer of BSRDC, which is monitoring construction of 21.50km road project, also known as Ganga Driveway.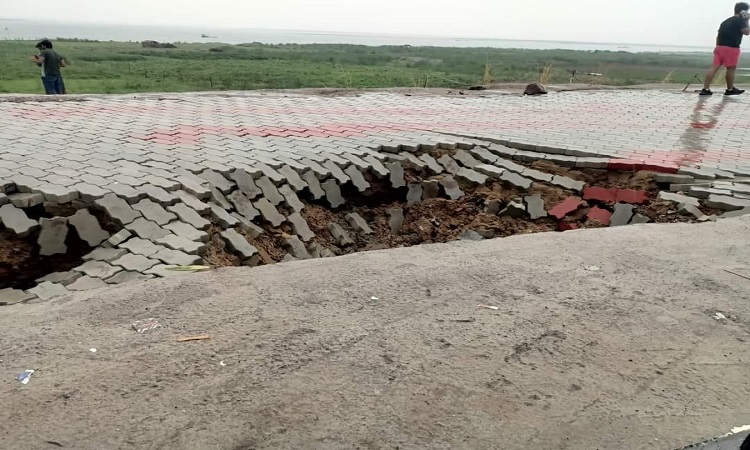 BSRDC chief general manager Sanjay Kumar said that a very small section of the at grade road has been damaged due to leakage of water from the under ground drain constructed around the circle of the driveway near Digha. "Barely 20-feet long and four-feet wide area of the pathway has been washed away. Engineers and other officials have been pressed into service to repair it," said Kumar.
Meanwhile, traffic on the porous section of the drive has been blocked to repair the damaged portion near the circle that connects it with Atal Path.
Also Read: CM unveils three new road infra projects to ease Patna traffic
The CM had opened 7.40km stretch of the driveway that links AN Sinha Institute and Patna Medical College and Hospital (PMCH) as an alternative to the congested Ashok Rajpath. Of the total length inaugurated last week, 6.50km structure is at grade while the rest portion has been built elevated.
A senior officer of BSRDC also questioned the quality of work by the construction firm (Navayuga Engineering Company Limited) , which claimed to have built the at grade structure after soil testing and resorting to anti-erosion mechanism. "The driveway happens to withstand the roaring stream of Ganga during the floods. Entire project would get wash away if the flood damaged even a portion of it," he feared.