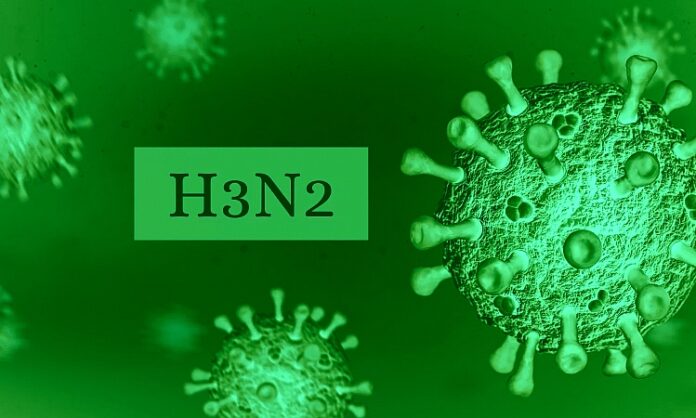 New Delhi: The Union health ministry on Saturday asked all the state governments and union territories (UTs) to ensure compliance with the standard operating procedure (SOP) to check the spread of the flu-like disease, caused by H3N2 virus, which has spread to different parts of the country.
The direction followed the discussion held at the NITI Aayog early in the day to monitor the surge of H3N2 virus, which claimed at least two lives and infected thousands of people. The people have been advised to follow the Covid like protocol, which included wearing of mask and take other precaution to boost immunity.
Also Read: Centre asks Jharkhand to follow SoP to curb spread of H5N1 virus
Officials of the Union health ministry said that two deaths caused by the H3N2 influenza virus reported from Haryana and Karnataka. The first recorded death from the H3N2 virus was an 82-year-old man from Karnataka, who had diabetes and hypertension.
Associate professor, Rajendra Institute of Medical Science (RIMS), Ranchi, Dilip Kumar Jha said that the H3N2 virus causes severe respiratory infection, which could lead to hospitalisation of the patients. "It is a flu like disease, which leads to running nose, sore throat, headache, bodyache, high temperature, etc. The pattern of viruses has changed remarkably and unexpectedly over the past few months," said Jha.
Also Read: Karnataka gears up for mock drill to check Covid preparedness
According to the Indian Council of Medical Research (ICMR), prevalence of influenza H1N1 (swine flu) is also noted in parts of the country along with H3N2 this year. A total of 3,038 laboratory confirmed cases of various subtypes of influenza including H3N2 have been reported till 9 March, as per the latest data available on the Integrated Disease Surveillance Programme (IDSP) network. While 1,245 cases were reported in January, 1,307 and 486 cases were reported in February and March, respectively.
Till February, 955 H1N1 cases have been reported. A majority of the H1N1 cases were reported from Tamil Nadu (545), Maharashtra (170), Gujarat (74), Kerala (42) and Punjab (28).
"Held a meeting to review rising cases of #H3N2 Influenza virus in the country. Advisory issued to States to be on the alert and closely monitor the situation. Government of India is working with States & extending support for public health measures to address the situation," Mansukh Mandaviya, Union minister for health and family welfare, tweeted.
The government further said 3,97,814 cases of acute respiratory illness/influenza like illness (ARI/ILI) were reported from the country in January which slightly increased to 4,36,523 in February. In the first nine days of March, there were 1,33,412 cases.
During January, around 7,041 cases of severe acute respiratory illness (SARI) were admitted to the hospital while 6,919 and 1,866 patients were admitted in hospitals in February and March, respectively.