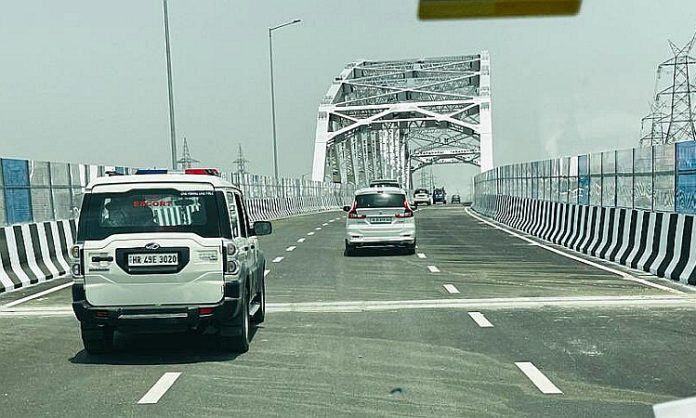 New Delhi: Union minister for road transport and highways (MoRTH) Nitin Gadkari on Thursday said the country's first elevated eight-lane access control Dwarka expressway of 29.6 km length is being built at a cost of ₹9000 crore will be almost completed in April 2024.
The Dwarka expressway is a key traffic route that aims to provide seamless connectivity between Mahipalpur in Delhi and Kherki Daula in Gurugram.
The minister said that the highway, which is India's first access controlled eight lane expressway, is part of the ₹60,000-crore Delhi decongestion plan, which aims to reduce pollution and traffic chaos in the National Capital Region (NCR).
Without giving a specific deadline, Gadkari said the sections of the road in Gurugram will be ready in the next three months, and the entire highway will be ready for traffic by the end of December this year. He added that Prime Minister Narendra Modi will inaugurate the project.
He said the 34-meter wide expressway is being constructed on 18.9 km single pillar in Haryana and 10.1 km long in Delhi.
Also Read: NHAI puts off toll tax hike on Bengaluru-Mysuru expressway
The minister said after inspecting the expressway today along with lieutenant governor (LG) of Delhi Vinay Kumar Saxena, Union ministers of state General VK Singh and Rao Inderjit Singh.
Interacting with the media, Gadkari said the road network of this expressway is of four levels. He said flyover is being constructed over tunnel, underpass, grade road, elevated road and flyover. A three-lane service road is being constructed on both sides of the expressway.
The minister said the country's widest 8-lane tunnel of 3.6 km length is being built on this expressway in Delhi. This will improve the connectivity of the people of Haryana and West Delhi to the Indira Gandhi International Airport, he added.
Also Read: PM Modi dedicates 6-lane Bengaluru-Mysuru expressway to nation
Officials of MoRTH said that 60% work of the 5.9 km long stretch from Shiv Murti to Bijwasan of Mahipalpur, one of the four packages, is completed at a cost of ₹2507 crore to provide access to Dwarka Expressway in Delhi. Similarly, 82% work on the section from 4.2 km long Bijwasan ROB to Delhi-Haryana border in Gurugram at a cost of ₹2068 crore has been completed. About 93% work on 10.2 km stretch from Delhi-Haryana border to Basai ROB at Gurugram at a cost of ₹2228 cr and 8.7 km from Basai ROB to Kherki Daula (Cloverleaf Interchange) at a cost of ₹1,859 cr completed 99% work of the section has been completed.
Two lakh metric tonnes of steel is being used in the construction of the Dwarka Expressway, which is being built with many features, which is 30 times more than the steel used in the Eiffel Tower. 2 million cubic meters of concrete is being used in the construction of the expressway, which is 6 times more than the concrete used in Burj Khalifa. For the first time in the country, 12,000 trees have been transplanted on this expressway. There is heavy pressure of vehicles between Delhi-Gurgaon on daily basis, due to which the situation of traffic jam remains on this route. With the construction of Dwarka Expressway, the problem of jam in this route will be solved.
Also Read: Move on to acquire land for Danapur-Bihta elevated road project
Gadkari said in Haryana, this expressway will intersect Pataudi Road (SH-26) near Harsaru and Farukhnagar (SH-15A) near Basai, apart from this, it will also cross the Delhi-Rewari rail line near Gurgaon Sector-88 (B) and UER-II at Bharthal. He said the expressway will connect Sector-21 of Gurgaon with Sector-88, 83, 84, 99, 113 and Dwarka to Global City. This entire expressway will have intelligent transport system (ITS) facility, he added.