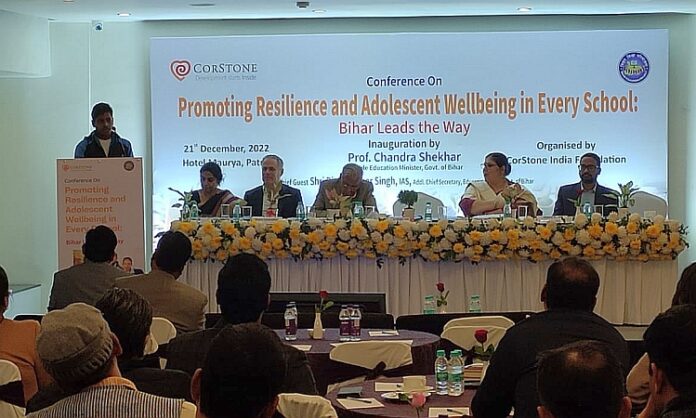 Patna: The Bihar's education department has tied up with a non-governmental organisation (NGO), CorStone, to impart well-being skills to over 35 lakh students of the government middle schools and Kasturba Gandhi Balika Vidyalaya (KGBV) over the next year.
The collaboration between the NGO and the education department was announced at a conference was organised here on Wednesday as part of its programme to expand a resilience program across all 35,000 government middle schools and KGBVs in Bihar. During the three year collaboration, CorStone will train essential skills to the students to enhance their holistic wellbeing and development of adolescents as per the New Education Policy (NEP), 2020.
Additional chief secretary, education department, Dipak Kumar Singh, on the occasion said that children spent most of their childhood and adolescence in school. "It is our goal to take CorStone's resilience programs to all the schools and KGBVs in our state, and make them mentally strong."
Sajjan R, director, state council for education, research and training (SCERT) said, "Our target is to ensure that resilience and mental wellbeing content enters the school curriculum in Bihar and we reach out to all 4 lakh teachers in our state with resilience training."
Also Read: Bihar to recruit 1.75 lakh teachers, appointment likely by year-end
Stressing on the importance of reaching out to adolescents across genders, Harjot Kaur Bamhrah, chairperson cum managing director, Women Development Corporation, said, "Girls do better than boys in all spheres of life till they reach adolescence after which they start doing poorly in various development outcomes. This is why gender is an essential ingredient in resilience and mental wellbeing training for adolescents."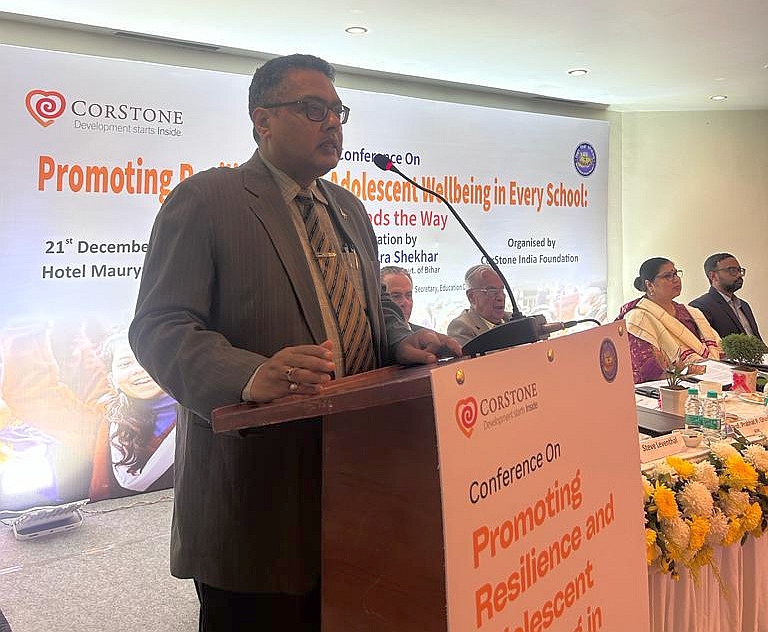 The conference also included a session where students from the 'Youth First and Girls First' programmes shared their experiences. "My parents told me to drop out after class 10, because no one else in my village had studied beyond that. I had learnt about communicating assertively in the girls first programme. I told my mother that if I become the first girl in my village to go to high school, other children will see me and be inspired to study further," said Uganti Kumari, a class 11 student of KGBV, Maner High School.
Also Read: 1 lakh students set to get credit card facility for higher studies in Bihar
A panel of experts discussed the topic of "integrating mental health & wellbeing within education – the why and the how'. "Mental health often takes a backseat to physical health, but mental health is core to the wellbeing of children," said Prabhat P Ghosh, member secretary, Asian Development Research Institute (ADRI) who chaired the panel.
"We need to focus on mental health in the community through promotive programs like 'youth first and girls first', and integrate them into the school curriculum," said Rajesh Nair, director, Amity Institute of Behavioural and Allied Sciences. "The bachelor of education (B Ed) curriculum already has a focus on training teachers to support students' mental health. It is important to further emphasise their role by implementing resilience training through the district institute of education and training (DIETs)," said Kiran Kumari, retired additional state program director, BEPC.
Also Read: Central Govt releases National Achievement Survey on school education system
"Since 2013, we've reached thousands of students and teachers across Bihar and documented extensive evidence that these programmes transform the emotional resilience, mental and physical wellbeing, and education outcomes of adolescents," said Steve Leventhal, chief executive officer, CorStone.
CorStone country director Nandita Bhatla said that this partnership was the first step to ensure that every student and teacher in Bihar obtained skills and knowledge to thrive in and out of the classroom, and change their lives.