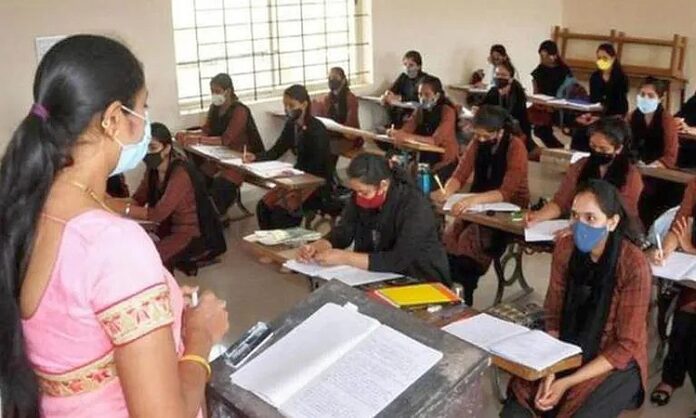 Patna: Long wait of teaching aspirants for appointment may end soon, as the newly formed Grand Alliance government, led by Nitish Kumar, is set to fulfill its promise of opening up fresh job opportunities by appointing 1.75 lakh teachers in state-aided schools.
The seventh phase of teacher recruitment is likely to commence by end of this year, as the Bihar education department is set to gear up recruitment process for filling vacant posts through new Teachers' Recruitment Regulation 2022 by December, said officials familiar with the matter.
In a departmental review meeting, chief minister Nitish Kumar asked the officials of education department to fill up the vacancy of teachers posts in all schools at the earliest for smooth teaching and learning process.
Kumar also instructed for smooth functioning of smart classes in all high schools, which were introduced under Unanyan Yojna. Besides, he stressed on publicity of student credit card scheme so that eligible students can take benefit of the scheme and take loan upto ₹4 lakh for pursuing higher education.
Also Read: Bihar TET decision after 7th phase of teachers' recruitment over
Officials of the education department said that they will send the final draft of Teachers Recruitment Regulation 2022 to the cabinet for approval.
As per the new regulation, 60% weightage will be given to Bihar Teachers Eligibility Test (BTET) and Central Teacher Eligibility Test (CTET) score and 40% to academic qualification including matric, graduation, D.El.Ed and B.Ed for preparing merit list.
Also Read: Jharkhand SSC to hold exam to fill up 3120 posts of Plus-2 teachers
In an effort to bring transparency and make the recruitment process for efficient, the education department is planning to shift the recruitment process online and prepare a centralised merit list through online portal.
Teaching aspirants, who have qualified BTET and CTET are eagerly waiting for the education department to release appointment notification. Prashant Kumar, an aspirant, said, "Despite qualifying BTET and CTET, we are waiting for recruitment from last three years. All do we get is assurance and new date for notification. Now the government is testing our patience."
Besides, all candidates who had cleared the TET in the sixth phase of recruitment but were not appointed would also be eligible for recruitment in the seventh phase.
As per the education department, there are around 1.25 lakh teaching posts are vacant in elementary schools while 40,000 posts are vacant in secondary and senior secondary schools.