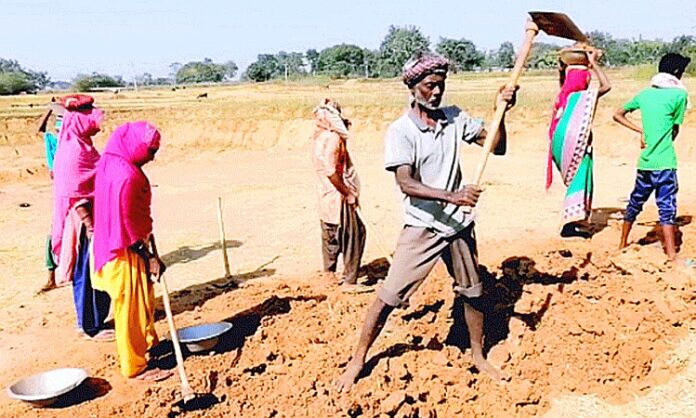 New Delhi: Waking up to complaints of irregularities in the implement of Mahatma Gandhi National Rural Employment Guarantee Scheme (MGNREGS), and Pradhan Mantri Awaas Yojna- Gramin (PMAY-G), the Central government has stopped the flow of fund to West Bengal and delayed the fund release for many states.
Officials of the Union rural development ministry claimed that the Centre had stopped release of funds to West Bengal under MGNREGS under section 27 of the act following an inquiry into the implementation of the scheme. "A portion of the allotted amount under the MGNREGS for Bihar has also been delayed for want of non-compliance of previous orders," said an officer.
Also Read: Centre extends PM Awas Yojna (urban) till Dec 2024 to cater demands
Earlier, the Central government has roped in independent agencies empanelled as national level monitors (NLMs) with the Union ministry of rural development (MoRD), to visit and conduct inquiry into the schemes undertaken in different states, said Union minister of state, MoRD, Sadhvi Niranjan Jyoti in a written reply in Rajya Sabha on Wednesday.
NLM agencies visited the selected districts to observe and monitor the progress made under the programme and assess the quality of implementation therein.
The special monitoring visit has been conducted in three phases. The phase-I was conducted in the month of January 2022 and covered 90 districts of 11 States. The phase-II visit was conducted in the month of May, 2022 and covered 115 districts of 26 States. The phase III visit was conducted in the month of August- September, 2022. It covered 114 districts of 25 States.
Also Read: JalDoot app to monitor groundwater table across country
During January-February, 2023, the empanelled NLMs have been deputed in 25 states/ UTs viz. Andhra Pradesh, Arunachal Pradesh, Assam, Bihar, Chhattisgarh, Gujarat, Haryana, Himachal Pradesh, Jammu & Kashmir, Jharkhand, Karnataka, Kerala, Madhya Pradesh, Maharashtra, Manipur, Mizoram, Odisha, Punjab, Rajasthan, Sikkim, Tamil Nadu, Telangana, Uttar Pradesh, Uttrakhand and West Bengal for conducting regular monitoring of phase-I of major schemes of MoRD.