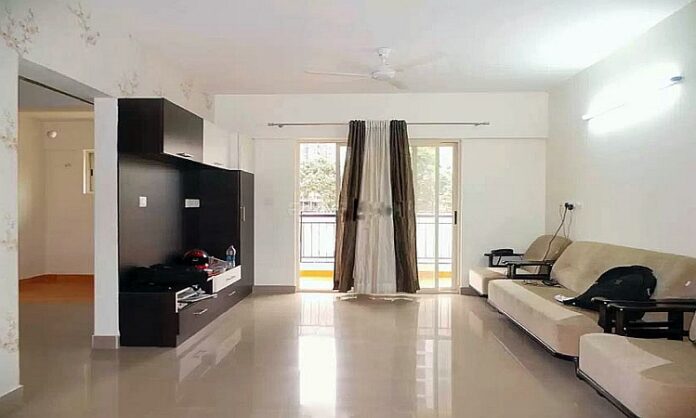 Mumbai: Residential rental demand has soared in most cities ever since offices and schools reopened after the 3rd Covid-19 wave in 2022, especially in the past one year and particularly in the country's IT/ITeS capital Bengaluru. The city has seen skyrocketing rental values.
As per the Anarock's analysis of monthly rents across prominent areas of the top seven cities, Bengaluru's Thanisandra Main Road and Marathahalli-ORR saw residential rental values going up by 24% each between Q1 2022 and Q1 2023.
Average monthly rentals for a standard 2BHK home of 1,000 sq ft at Thanisandra Main Road increased from ₹21,000/month in Q1 2022 to ₹26,000/month in 2023. At Marathahalli-ORR, average monthly rentals increased from ₹22,500/month last year to ₹28,000/month in Q1 2023.
Also Read: Ambience starts offering possession of high-end houses in Noida
Interestingly, the next two hotspots were also in Bengaluru. Whitefield – another prominent IT/ITeS destination – witnessed the 2nd-best rental value growth of 21% in this period, against all prominent localities in the top seven cities of India.
In Whitefield, the average rents stood at ₹21,900/month in Q1 2022 and in Q1 2023, had reached ₹26,500/month. The third spot was occupied by Bengaluru's Sarjapur Road, which recorded rental value growth of 20% between first quarter of 2022 and 2023. Here, the average rentals were ₹22,500/month in Q1 2022 and ₹27,000/month in Q1 2023.
Prashant Thakur, senior director & head – research, Anarock Group, says, "When it comes to rental demand and zooming rents, Bengaluru currently stands out among the top seven cities, with East and North Bengaluru the biggest blips on the rental radar map owing to the IT/ITeS belt there. Whitefield, Sarjapur Road, Marathahalli-Bellandur Outer Ring Road, Thanisandra Main Road and even Hebbal are the clear chartbusters."
Also Read: 45% home buyers in NCR; 32% in MMR prefer 3BHK flats: Report
"We anticipate residential rental values in the IT capital's prominent markets to rise further by anywhere between 5-12% in 2023, depending on the location, property, builder-type and other aspects," says Thakur. "In housing societies with limited supply but high demand, the rents could easily rise beyond 12%."
Top Rental Markets – City-wise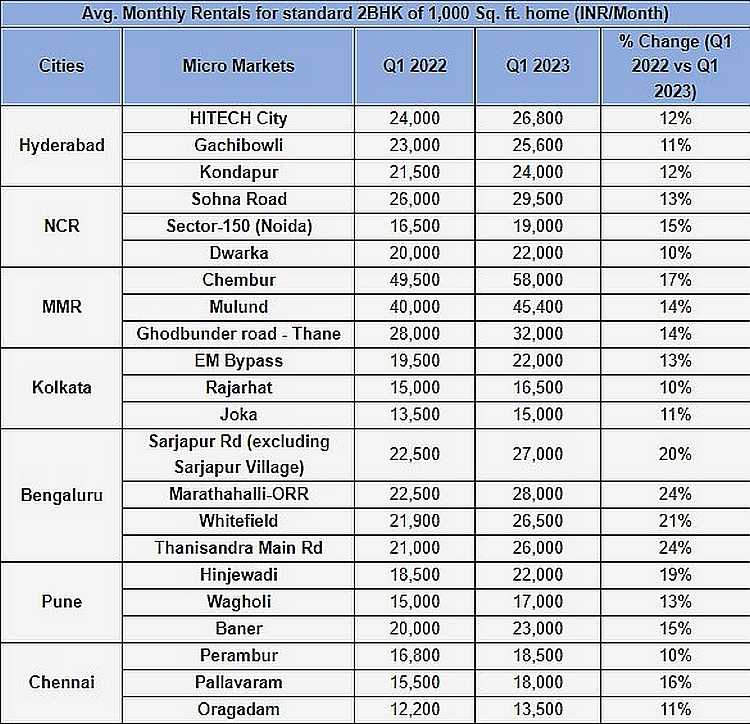 Rentals in three prominent locations of six other cities
Pune's three standout markets with high rental growth between Q1 2022 and Q1 2023 are Hinjewadi, Baner and Wagholi, which witnessed rental value growth of 19%, 15% and 13%, respectively
Also Read: Metros dominate residential property market in year '22: Study
In Chennai, the top three markets to witness high rental values growth are Pallavaram, Perambur and Oragadam, with rents in this period growing by 16%, 10% and 11% respectively
In NCR, the top three markets were Sohna Road in Gurugram (rental values increased by 13%), Sector-150 in Noida (15% growth) and Dwarka in Delhi with a rental value growth of 10%
In MMR, the top three markets for rental value growth were Chembur, Ghodbunder Road (Thane) and Mulund, which saw 17%, 14% and 14% growth, respectively
Kolkata's top three markets with high rental value growth between Q1 2022 and Q1 2023 were EM Bypass, Joka and Rajarhat, where rents rose by 13%, 11% and 10%, respectively
In Hyderabad, the top three markets were HITECH City and Kondapur, which saw rental values increase by 12% each, and Gachibowli with 11% growth
Rental Yields
Residential rental yield (the annual rate of return an investor can earn from capital invested in a property) had for long stagnated in India. The national average stood at 3% for the last few years pre-pandemic. However, things began to change with rental demand spiking up post the pandemic in 2022. Among the top seven cities, Bengaluru has the highest rental yield of 4.1% as of Q1 2023-end, followed by Mumbai with 3.9%. Pre-Covid, the rental yield in Bengaluru was at 3.6% – the highest back then, as well.
Also Read: No GST on rent from residential units, Govt clarifies
Thanisandra Main Rd & Marathahalli-ORR in Bengaluru record highest residential rental growth of 24% each on yearly basis in Q1 2023 (for a standard 2BHK home of 1,000 sq. ft. area)
Whitefield (Bengaluru) records 2nd best rental rate jump against other prominent areas of top 7 cities, sees 21% growth
Bengaluru's Sarjapur Road comes next with 20% in avg. monthly rent growth b/w Q1 2022 & Q1 2023
Largely, areas in East & North Bengaluru have seen a spurt in rental demand
At 4.1%, Bengaluru currently has the highest rental yield as of Q1 2023-end among all major cities, followed by Mumbai with 3.9%
Residential rents in prominent markets in Bengaluru may rise further by between 5-12% in remaining 3 quarters of 2023