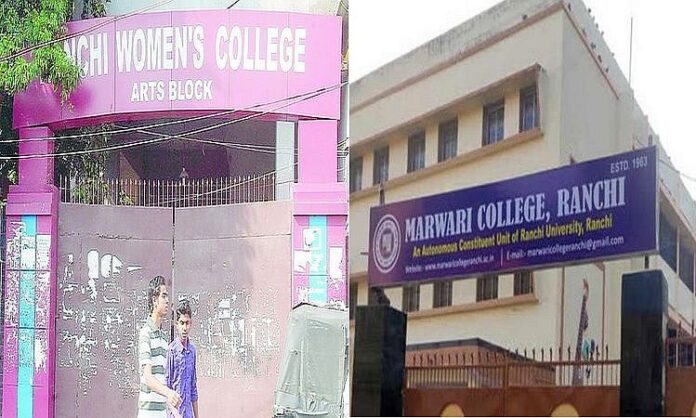 Ranchi: Two premier colleges of Ranchi University—Ranchi Women's College and Marwari College—are awaiting the visit of University Grants Commission (UGC) to decide the fate of their autonomy. The autonomous status of Ranchi Women's College and Marwari College had expired in August and May last year.
Officials of the Ranchi University (RU), under whose affiliation both the colleges operate, said that development activities of both the colleges would suffer if the UGC did not take any decision regarding their autonomy. "The delay in decision regarding renewal of autonomy will have its bearing on the study of around 20,000 students in these colleges," said a senior officer of RU.
Also Read: UK Govt launches Chevening scholarship for Jharkhand students
The UGC offers special financial grants to the autonomous institutions operating in different states. In Jharkhand, the UGC had given autonomous status to five colleges, which include Jamshedpur Women's College (East Singhbhum), Ranchi College and St Xavier's College (both in Ranchi). Jamshedpur Women's College and Ranchi College have been granted the university status by the UGC.
The colleges granted autonomy by the UGC enjoy the liberty to modify the syllabus, frame question papers, conduct the exams and publish results on their own. As the autonomous status of Ranchi Women's College and Marwari College has ceased to exist, they will have to depend on RU to reframe the syllabus and conduct the examinations.
Also Read: Derecognise pvt varsities not fulfilling UGC norms: Jharkhand Guv
Officials of Ranchi Women's College and Marwari College said that they had requested the UGC to conduct inspections to their institutions and renew the autonomy within the scheduled period. "However, there was no response from the UGC. Further, we have sent the reminder so that the autonomy could be renewed. We are still waiting for the UGC inspection," said Marwari College principal Manoj Kumar.
RU vice-chancellor Ajit Sinha said that expiry of autonomous status of both the colleges had been brought to his notice. "I will get update on this from the principals of both the colleges. I will also talk to the UGC officials to facilitate restoration of the autonomy," said the VC.