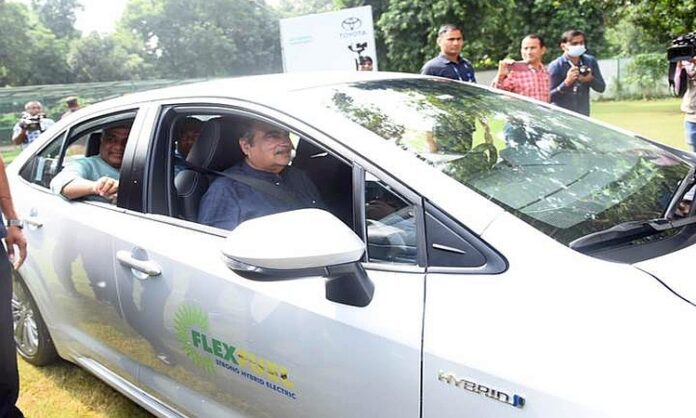 New Delhi: Toyota Kirloskar Motor (TKM) on Tuesday launched the pilot project on Flexi-Fuel Strong Hybrid Electric Vehicle Technology (FFV-SHEV) based car in Delhi to check efficiency of running vehicles on different kinds of fuels, like petrol, ethanol and electric charge.
The FFV-SHEV system has been fitted in Corolla Altis make, imported from Brazil. This is considered the company's first step towards promoting and creating awareness of ethanol as an important indigenous, carbon-neutral energy pathway, along with the advanced hybrid fuel cars to help the country achieve the Carbon neutral regime by 2070.
Union minister for road transport and highways (MoRTH) Nitin Gadkari launched the pilot project, which will run on 100% petrol as well as 20 to 100% blended ethanol and electric power.
6-8% agriculture growth needed for AtmaNirbhar Bharat
Speaking on the occasion, Gadkari said 6-8% increase in agricultural growth rate is necessary for AtmaNirbhar Bharat. He emphasized on importance of converting surplus foodgrain and sugar into ethanol for boosting rural economy.
Also Read: Gadkari urges farmers to diversify, contribute in fuel production
Encouraging 'Anndatas' to become 'Urjadatas', the minister said the success of this pilot project will create an ecosystem of electric vehicles and make New India, a global leader in the manufacture of these electric vehicles. He said such technologies are innovative, revolutionary, sustainable, cost-effective, energy-efficient & will completely transform the transportation sector in New India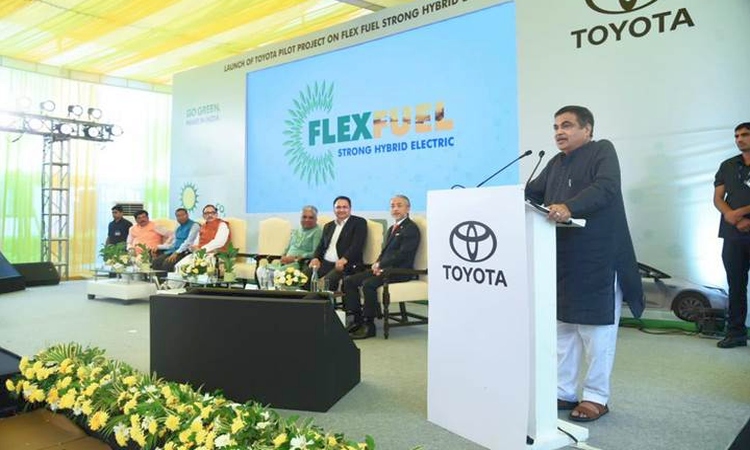 Toyota signs deal to study flexi-fuel vehicle
The TKM has also signed a memorandum of understanding (MoU) with the Bengaluru based Indian Institute of Science (IISc) for conducting a study about the well-to-wheel carbon emissions of FFV/ FFV-SHEV on Indian road conditions.
Also Read: Tata Power sets up 450 EV charging points on highways
Officials said that the country can significantly reduce carbon emission and energy import bill by using ethanol, which is a clean energy source. As the ethanol production is agriculture-based, increased consumption of ethanol will also lead to maximise farmer incomes and open doors for new jobs, helping grow the rural economy.
Advanced tech launched for ethanol production from agri waste
The Central government has recently introduced upgraded technology for producing ethanol from agricultural residues like paddy and wheat straws, which are usually burnt by the farmers for its quick disposal. The government has stipulated various measures to discourage farmers from burning straws, which has become a major source of pollution in Delhi, NCR and other parts of the country.
India has already achieved 10% ethanol blending five months ahead of schedule. It has now decided to go for 20% ethanol blending in petrol by 2025-26, which is expected to substitute 86 million barrels of patrol, leading to forex savings of ₹30,000 crores for India, as well as reducing 10 million tons of carbon emissions.
Pilot vehicle has flexi-fuel engine compatible with electric energy
Officials said that an FFV–SHEV has a flexi fuel engine and an electric power train, providing the dual benefit of higher ethanol use and greater fuel efficiency, as it can run for significant periods in EV mode, with the engine shut off.
Union ministers Mahendranath Pandey, Bhupender Yadav, Union minister of state Rameswar Teli, Karnataka minister Murugesh Nirani, vice-chairman of TKM Pvt Ltd Vikram Kirloskar and managing director & CEO of TKM Masakazu Yoshimura were also present on the occasion.