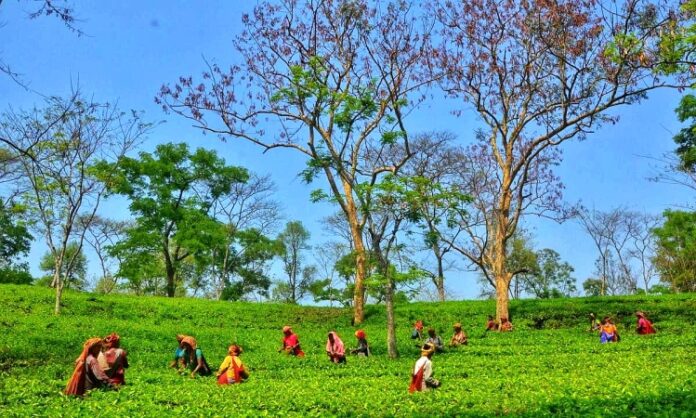 Kolkata: The Tea Board of India (TBI), a state agency set up to promote cultivation, processing, and domestic trade and export of tea, has sought an assistance of ₹1000 crore from the Union ministry of commerce to boost tea production qualitatively for the small growers, who contribute 52% share of total production across India, said TBI chairman Sourav Pahari here on Thursday.
Overall, 1,344.4 million kg of tea was produced in India in FY 2021-22. Pahari told reporters that the Tea Board of India has sought a corpus of ₹1000 crore from the Centre on a five-year-plan to boost tea production in terms of quality, research work, rejuvenation of gardens, introduction of technology to reduce output cost and effort to produce organic tea.
He also appreciated the Indian Tea Association (ITA) for acknowledging the contribution of small tea growers. "The board is also working to increase the domestic consumption of Indian Tea," said Pahari, while urging the need for branding the Indian Tea like that of Colombian coffee.
ITA chairperson Nayantara Palchoudhuri while addressing the139th annual general meeting said that the small tea growers contribute 52% share of total tea production in India.
Also Read: Govt seeks PPP role to enhance digital intervention in farming
On the export front it was on a higher graph this year by 12.6 percent during January to July as shipment to Iran, Iraq and UAE increased. Turkey and Syria have also started buying Indian tea owing to sustained marketing, the ITA chairperson said.
"Export in 2022 is estimated to touch 230 million kg, which would be a remarkable increase from 196 mkg of 2021," the ITA report said.
Also Read: Railways okyas plans to strengthen tracks on strategic North-East front
"We have to target a volume of 350 Mkg in the next 3-4 years. It is well known that our scope for higher export hinges on higher production of orthodix, in tune with nits popularity and demand abroad. Orthodox production is gaining momentum and in this context I laud the recent decision that the Assam government to enhance the orthodox subsidy under Assam Tea Industries Special Incentive Scheme (ATISIS) from ₹7 to ₹10 per kg from April 2022," said Palchoudhuri.
"I would urge Tea Board and commerce ministry to restore the Orthodox incentive from the Central government so that Orthodox tea producers, including Darjeeling are incentivised substantively at a higher rate." the ITA chairperson said.
(With arrangement from Insightonlinenews)