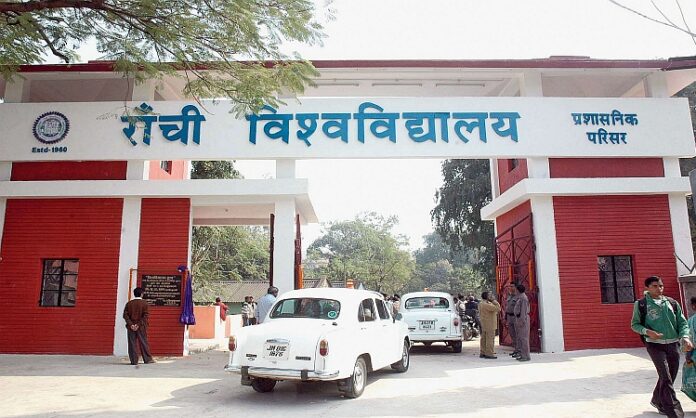 Ranchi: Good news for those interested in doing research in the field of higher education and PhD. Ranchi University administration is going to start the entrance process in March for admission to PhD course after five years, said an official of the Ranchi University.
Though there is no vacancy in seven out of 30 subjects in which entrance for PhD is to be held. Entrance examination will be held for admission to 1254 PhD seats in 23 disciplines. Online applications will be invited from March.
Also Read: UGC's dilly-dallying set to cost autonomy of two Ranchi's colleges
Most PhD admission seats are in Botany, which have 185 berths. The lowest number of admission seats are in Kurmali and Nagpuri subjects. Entrance test will be conducted for admission to one PhD seat each in these two disciplines. It is noteworthy that the candidates are waiting for admission in PhD course for long. On the other hand, there was disappointment among the candidates of the subject related to the non-vacancy of one seat in seven subjects.
No seat in seven subjects
There is not a single seat in the seven subjects for the PhD course. These include Mundari, Kudukh, Santhali, Ho, Khadia, Panch Pargania and Khortha subjects. All the above fall under tribal and regional language (TRL). A total of nine subjects are taught under tribal language, of which there are only two admission seats.
Also Read: UK Govt launches Chevening scholarship for Jharkhand students
Subject-wise seats in PhD
Anthropology-29; Botany-185; Bengali-06; Chemistry-66; Commerce-49; English-104; Economics-110; Geology-37; Geography-77; Hindi-137; History-116; Home Science-85; Maths-15; Political Science-14; Philosophy-36; Psychology-41; Physics-14; Sociology-59; Zoology-31; Urdu-14; Kudukh-0; Santhali-0; Ho-0; Khadia-0; Pach Pargarnia-0 & Khortha-0
No need to run after guides
Candidates will no longer have to run after colleges and PG departments to get guides after being selected for the PhD course. This is because the Ranchi University has planned to conduct entrance tests as per the basis vacancies in all disciplines and there are qualified teachers to guide the researchers.
Also Read: Derecognise pvt varsities not fulfilling UGC norms: Jharkhand Guv
All passed with 50% marks were declared qualified for PhD
Earlier, the Ranchi University used to organize PhD entrance without any concrete plan. All the candidates, who scored 50% in entrance were declared qualified for the PhD, which resulted in selection of a large number of candidates till the last entrance test held five years ago. As the number of candidates were more, many of them could not get the guide for their research.
RU ignored UGC norms for PhD
The University Grants Commission (UGC) has fixed a quota for university teachers to get PhDs. According to UGC norms, an assistant professor can conduct four PhDs simultaneously, an associate professor six simultaneously and a professor eight PhDs simultaneously. Ranchi University has increased the quota of teachers through the academic council in view of the shortage, which led to mess and severe shortage of guides.