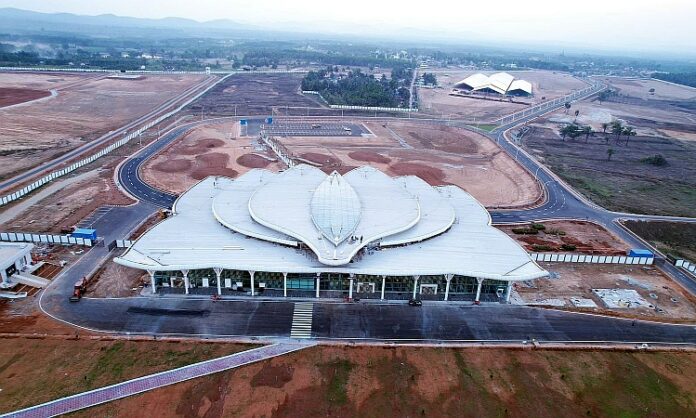 Shivamogga (Karnataka): Prime Minister Narendra Modi on Monday inaugurated the newly constructed Shivamogga airport along with various development projects that cost over ₹3,600 crore in Shivamogga, Karnataka.
The new airport is developed at a cost of around ₹450 crore by the Airports Authority of India (AAI). The passenger terminal building of the airport is spread over 4340 sq. meters and can handle 300 passengers per hour. Opening of the airport will lead to further enhancement of air transportation from the state.
Also Read: Govt accords in-principal nod to build 21 greenfield airports
"The new airport is going to open doors of development for Shivamogga, the land of nature, culture, and agriculture", said Modi. He elaborated upon the policies of the government that have led to an unprecedented expansion of the aviation sector and also mentioned the UDAN scheme for affordable air travel to realize his vision that Hawai Chappal-wearing common citizens should be able to travel in Hawai Jahaj.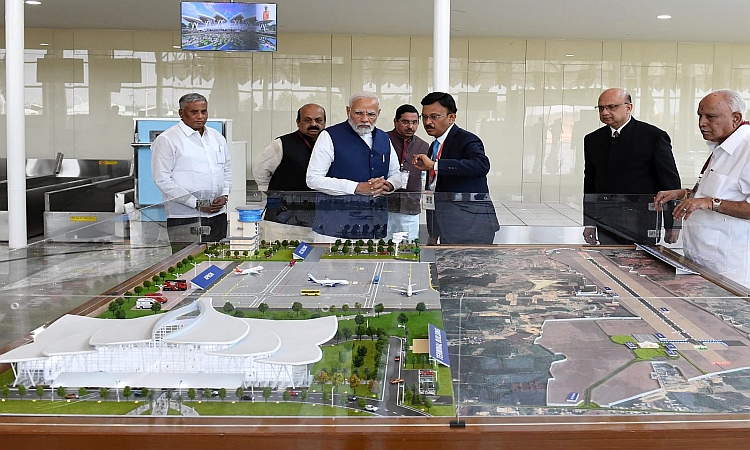 In a series of tweets, minister of civil aviation Jyotiraditya M Scindia said, "Shivamogga airport has given a new height to civil aviation in the country and has opened new doors of prosperity in Karnataka. It is a unique gift for Shivamogga and the entire region on the birthday of the former chief minister of the state BS Yeddyurappa. It is a matter of pride for the entire country that where there were only 74 airports in the country until 2014, today, after the inauguration of the Shivamogga airport, the number of airports has doubled. Now the total number is 148, which means there has been a 100% increase in the number of airports in the last nine years."
Also Read: Indigo flight test-lands at newly built Donyi Polo airport in Itanagar
The minister further said, "The Shivamogga airport is designed like a lotus flower, and it is built to accommodate A-320-type aircraft. This airport is spread across 758 acres of land. The night landing facility is also available at this airport which will start after some time."
The Prime Minister also laid the foundation for two railway projects, the Shivamogga – Shikaripura – Ranebennur new Railway line and Koteganguru Railway coaching depot, and several road development projects totalling over ₹215 crore. He also unveiled multi-village schemes worth over ₹950 crore under the Jal Jeevan Mission and inaugurated 44 Smart City projects worth over ₹895 crore in Shivamogga city.