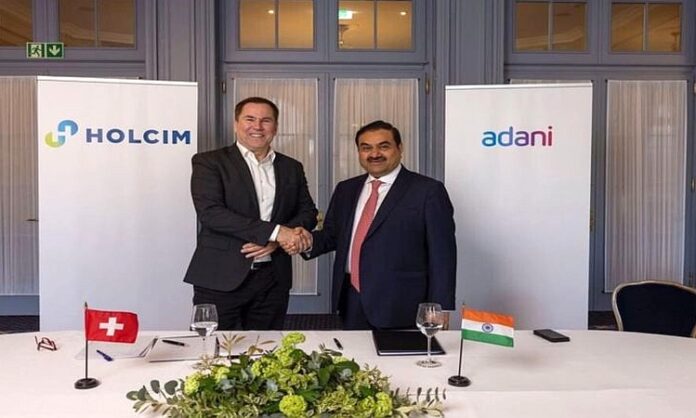 Mumbai: The Adani group becomes the second largest player in cement after acquisition of Ambuja Cements Ltd and ACC Ltd. A special purpose vehicle of the group, Endeavour Trade and Investment Ltd ("BidCo"), formalised the acquisition.
The transaction involved the acquisition of Holcim's stake in Ambuja Cement and ACC along with an open offer in both entities as per SEBI regulations. The value of Holcim's stake and open offer consideration for Ambuja Cements and ACC Ltd is $6.50 billion, which makes this the largest ever acquisition by Adani.
The acquisition is also India's largest ever M&A transaction in the infrastructure and materials space. Post the transaction, Adani will hold 63.15% in Ambuja Cements and 56.69% in ACC (of which 50.05% is held through Ambuja Cements).
Ultra Tech Cement Ltd, however, remains the largest player in cement production of RMC, grey and white cement segments.
Also Read: LIC unseats Reliance Industries, makes maiden entry to Fortune Global list
"What makes cement an exciting business is the headroom for growth in India, which exceeds that of every other country well beyond 2050," said Gautam Adani, Chairman, Adani Group.
"Cement is a game of economics dependent on energy costs, logistics and distribution costs, and the ability to leverage a digital platform to transform production as well as gain significant supply chain efficiencies. Each one of these capabilities is a core business for us and therefore provides our cement business a set of unmatched adjacencies," he said.
Also Read: CCI okays AirAsia's merger, Tata Son's airline consolidation plan gets on
In addition, the group's position as one of the largest renewable energy companies in the world will help us manufacture premium quality green cement well in line with the principles of a circular economy. All of these dimensions put the firm on track to become the largest and most efficient manufacturer of cement by no later than 2030, said a statement from the company.
Currently, Ambuja Cements and ACC have a combined installed production capacity of 67.5 MTPA. The two companies are among the strongest brands in India with immense depth of manufacturing and supply chain infrastructure, represented by their 14 integrated units, 16 grinding units, 79 ready-mix concrete plants and over 78,000 channel partners across India.
Also Read: Reliance Retail partners with Gap Inc. to bring latest fashion to India
The Board of Ambuja Cements approved an infusion of ₹20,000 Cr into Ambuja by way of preferential allotment of warrants. This will equip Ambuja to capture the growth in the market. The actions will significantly accelerate value creation for all stakeholders, in line with the Adani Group's business philosophy.
The transaction was financed by facilities aggregating to $4.50 billion availed from 14 international banks. Barclays Bank PLC and Deutsche Bank AG acted as M&A advisors to BidCo, with Standard Chartered Bank acting as the Structuring Advisor, and ICICI Securities and Deutsche Bank AG acted as merchant bankers to the open offer by BidCo for Ambuja Cements and ACC.
Adani becomes India's 2nd largest cement player after acquisition of Ambuja Cements & ACC

Largest acquisition in India's infrastructure and materials space valued at $6.50 billion

Post transaction, Adani will hold 63.15% in Ambuja Cements & 56.69% in ACC 

The combined market capitalization of Ambuja Cements and ACC is $19 billion as on date

Enhanced corporate governance with 100% independent directors on ACNR Committee

2 new board committees, comprising of independent directors, will drive consumer 1st approach