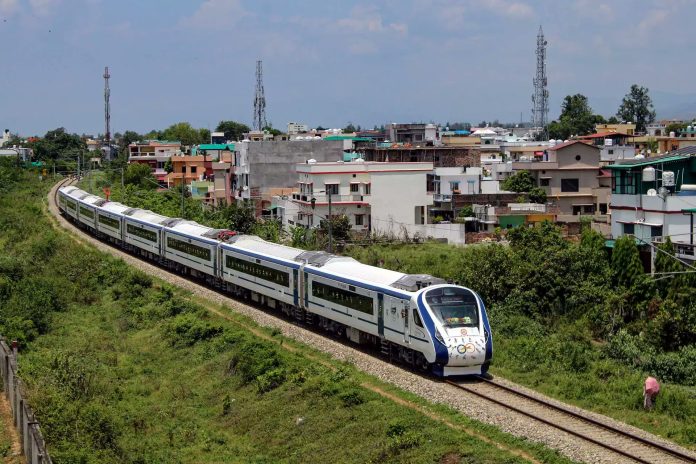 New Delhi: Prime Minister Narendra Modi on Thursday virtually flagged off the inaugural run of Delhi (Anand Vihar)-Dehradun Vande Bharat express. This is the first Vande Bharat to be introduced in Uttarakhand.
"Uttarakhand is getting its first Vande Bharat express today from Dehradun to Delhi. This train will reduce the travelling time of the people," said PM Modi at the flagging off event of Vande Bharat Express between Dehradun and Delhi.
Also Read: Vande Bharat express conducts trial run on Konkan railway track
Modi said India is being watched with great hope and the world wants to come and see the nation. "The world wants to come to India to see India, and to understand the essence of India. In such a situation, there are excellent opportunities for states like Uttarakhand. Vande Bharat train is also going to help Uttarakhand to take full advantage of this opportunity".
Three versions of Vande Bharat exp next year: Rly minister
Union Railways Minister Ashwini Vaishnaw said today three versions of Vande Bharat trains-Vande chair car, Vande metro and Vande sleepers-would be introduced by February-March next year. "These indigenous semi-high speed trains, which are being prepped to replace Shatabdis, Rajdhanis and local trains, are being made at the Integral Coach Factory (ICF) in Chennai.
Also Read: Russian firm gets order to make sleeper version of Vande Bharat
Talking to media persons after the launchof Delhi-Dehradum Vande Bharat express, the minister said in the next three to four years, railway tracks will be upgraded to support the maximum speed of 160 kmph of Vande Bharat trains.
The minister said that Vande Metro are meant for running for less than 100 kilometres, Vande Chair Car for 100-550 kilometres and Vande Sleepers for a journey beyond 550 kilometres. "These three formats will be ready by February-March (next year)," said Vaishnaw