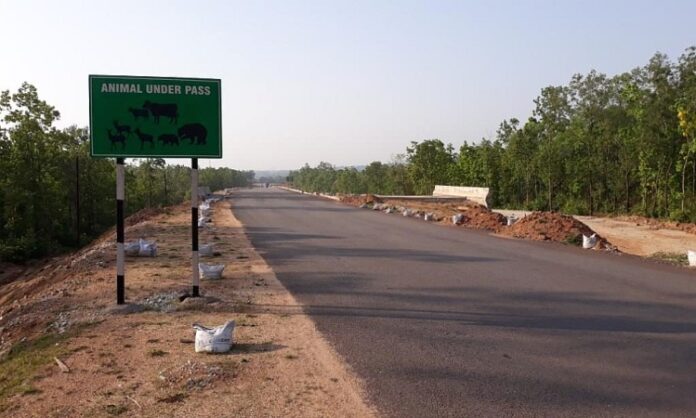 Bengaluru: The National Tiger Conservation Authority (NTCA) on has directed the National Highway Authority of India (NHAI) to seek wildlife clearance from National Board for Wildlife (NBWL) for upgrade of the National Highway 748AA, which passes through protected areas and wildlife sanctuaries in the states of Karnataka, Maharashtra and Goa.
The direction comes in the wake of a representation filed before NTCA by wildlife conservationist Giridhar Kulkarni. The NHAI in an RTI informed him that they don't need any wildlife clearances for the upgradation of the project.
NH 748AA starts near Machhe connecting Piranvadi, Navage, Kinaye, Kusamalli, Jamboti, Kalmani, Kankumbi in Belagavi District of Karnataka and Poriem, Matnee and terminating at Sanquelim (near Shri Dattaraya Mandir) in Goa.
The NTCA wrote to the NHAI stating,"This Authority is in receipt of a petition regarding the upgradation of National Highway 748 AA which involves two laning with/without paved shoulders from State of Goa and Karnataka under Bharatmala Pariyojana on Engineering, Procurement and Construction (EPC) basis. It is reported that the said road upgradation project passes through larger Protected Area Network such as Kali Tiger Reserve, Dandeli Sanctuary (Castlerock area), Bhimgad Sanctuary, Mollem National Park, Mhadei Sanctuary, Tillari Conservation Reserve, Chandgad Conservation Reserve, Radhanagari Sanctuary, Sahyadri Tiger Reserve besides Reserved Forests spread across three states i.e Karnataka, Goa and Maharashtra. In view of the above, it is requested that necessary wildlife clearance from the National Board of Wildlife may please be obtained prior to the commencement of road upgradation work."
NHAI had already issued Letter of Acceptance of Tender (LOA) to Contractor M/s. NSC Projects Pvt. Ltd., Gurugram on March 16 this year. The total estimated cost of the project for Karnataka side and Goa side is ₹229.19 crore. While the project was to start on June 30 and complete within two years it is yet to take off.
"Answering to my query regarding statutory clearances to be obtained for the project and extend of forest land/non-forest land required for the project in the State of Goa and Karnataka,NHAI has stated in its RTI reply that no statutory clearances are required and total private (non-forest) area required 4.46 Ha. in Kanakumbi Karnataka realignment location. I have also learnt that NHAI has written to Forest Departments of Karnataka and Goa that EPC (engineering, procurement and construction) Contractor M/s. NSC Projects Pvt. Ltd., has commenced the survey, investigations, collection of data and preparation of preliminary and detailed design works of the project and the up-gradation work will be taken up in the existing alignment only," Kulkarni mentioned in his representation to the NTCA.
Explaining the consequences on the ecology, Kulkarni further mentioned to the NTCA, "The proposed highway alignment passes through Mhadei Sanctuary in Goa, deemed eco sensitive zone of Bhimgad Sanctuary in Karnataka, Dandeli Elephant Reserve and mainly cuts through the tiger corridor of Central Western Ghats tiger landscape connecting Kali Tiger Reserve in Karnataka and Sahyadri Tiger Reserve in Maharashtra identified by the NTCA. Apart from tiger, the forest areas in and around proposed alignment is home to many Species (Listed in Schedule I and Schedule II of Wildlife (Protection) Act, 1972) like elephant, leopard, gaur, dhole, great Indian hornbill and many other charismatic species of endangered and endemic Flora and Fauna."
The Ministry of Road Transport & Highways in its circular dated May 29, 2019 has explicitly mentioned, "The development of National Highways is essential for the economic growth of the country, however alignment of NH passing through natural areas may have wide ranging and complex impact on ecology & wild species. To have minimum Impact of highways on the protected eco-sensitive area, the implementing agency should consider to spare sanctuaries / National Parks at the planning stage and wherever possible take a bypass/detour."