Patna: A 150-year-old steam powered road roller has recovered in course of laying the foundation stone of a new Patna Collectorate building. The new and modern office structure is coming up in place of the old iconic building of the collectorate, which was believed to have been built in the early sixties.
Officials dealing in archaelogical subject said that the district council building existed at the place of Patna Collectorate, before it was taken over by the district administration. The steam roller of archaic value was buried partly underground and was being used for building roads before it was left abandoned due to either technical fault of technical upgrade.
The road roller, manufactured by John Fowler and Co, Leeds, England, currently lies parked in an open area in front of the Dutch-era district engineer's office building, situated on the banks of the Ganga river. Its iron wheels was earlier noticed semi-buried in ground even as labourers shift old files and stocked material from the iconic building and other structures, also marked for demolition.
According to agency reports, the State Government is now contemplating shifting the ancient road roller as the vintage machine to the city museum. The development comes nearly 40 days after a team of experts from Patna Museum had inspected heritage artifacts at the demolition site of Patna Collectorate with an aim to assess and rescue them.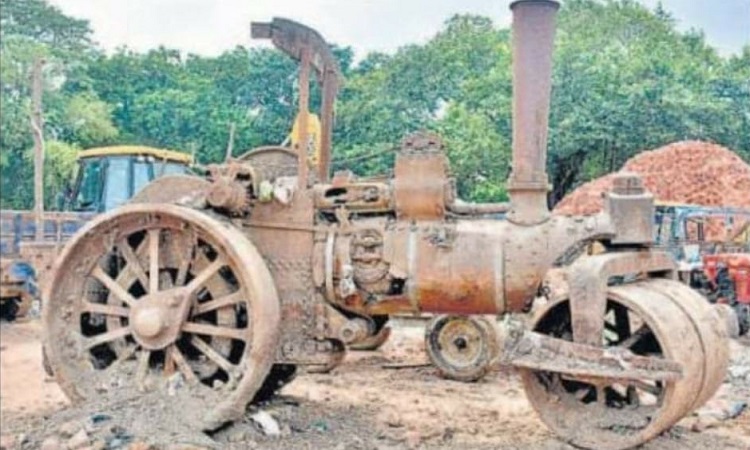 The shifting process of the road roller and other artifacts recovered during the excavation of the old heritage building would be taken to Patna Museum in a day or two, depending up on traffic congestion on roads.
Heritage lovers from various parts of the country on July 19 had appealed to the museum authorities in Bihar to "urgently shift" the antique steam roadroller and other vintage items — a Dutch-era hanging skylight, vintage safety vault and an old wall clock — away from the demolition site of the historic Patna Collectorate.
On May 13 this year, the Supreme Court had rejected a plea by heritage body INTACH, which was fighting a legal battle since 2019 to save the historic landmark from demolition, paving the way for construction of new building at the same venue.