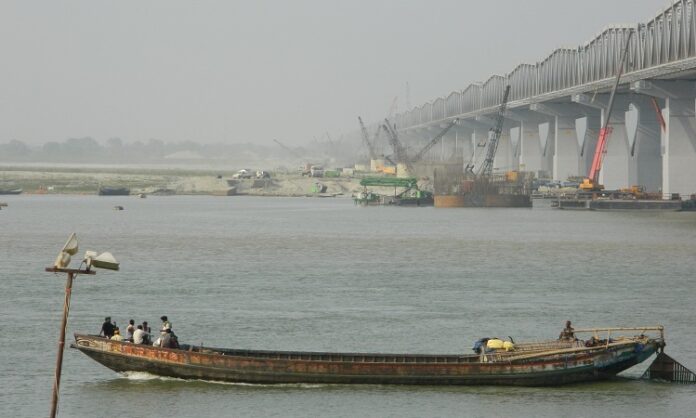 Patna: The National Highway Authority of India (NHAI) on Thursday invited bids for construction of a six-lane bridge on Sherpur-Dighwara section across the river Ganga. The bridge is also a part of the proposed ring road of Patna on NH-131G.
The NHAI has proposed to invest a sum of ₹4994.79 crore (without goods and services tax) on construction of the bridge and the approach road. The NHAI has undertaken the project on the request of the state government. Interested and eligible firms have been asked to submit their bids by September 12.
The bridge will be 14.52 km long along with the approach road. Up on its completion, it will be the sixth bridge across the river Ganga in Patna district.
State Road Construction Department (RCD) Minister Nitin Nabin said that the process of tendering and start of the work on ground would be conducted within two months. "This is one of the most important projects of the State. This bridge will work to connect Patna and Saran district of the state, due to which easy and direct connectivity will be established between North Bihar and South Bihar," added Nabin.
Also REad: NHAI sets up PIU for 6-lane bridge on Ganga parallel to JP Setu in Patna
"With the issuance of tender for this work, the development of road infrastructure will get a new dimension. At the same time, construction of this bridge would reduce pressure of vehicles on the existing JP Setu, which is overloaded due to traffic from Saran district. Vehicles going to North Bihar via Saran may have the option to avoid entering the capital city," the Minister said.
This work has been targeted to be completed in 3.5 years. After the construction of the bridge, maintenance of the bridge will be done by the contractor for 10 years. This bridge will start from NH-30 at Sherpur at the southern-end and will end at NH-19 at Dighwara. The approach road of this bridge will converge with the lane of Patna Ring Road at Kanholi Ramnagar.
Also Read: Patna-Gaya-Dobhi road to be complete by March next year: NHAI
The amount for land acquisition for this project is being borne by the State Government. Officials of the RCD said that there is a plan to connect this bridge with JP Ganga Path in future to make it easier for the people of Patna to go to Chhapra, Siwan, Gopalganj as well as other areas of North Bihar through this bridge.