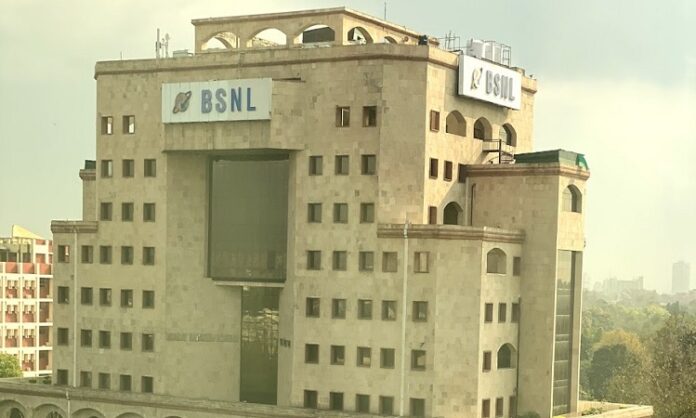 New Delhi: The anxious wait of mobile subscribers of the Bharat Sanchar Nigam Limited (BSNL) for using 4G service is set get longer with the announcement of ₹1.64 lakh crore revival package for the public sector undertaking (PSU).
Officials of the BSNL said that the Central government's plan of installing around 1.50 lakh towers across the country might affect their old deal for getting equipment for 6,000 4G towers meant for major towns. The BSNL had placed the purchase order for 6000 towers to Tata Consultancy Service (TCS), but delay in procurement might make both the companies on negotiation table again over the cost of equipment, feared a senior officer.
The BSNL was planning to launch 4G mobile services in all major cities including Patna, Ranchi, Kolkata, Bengaluru, Mumbai, etc., in September-October this year. However, the process to get 6000 towers was put hold in the anticipation of revival package. "Now that the BSNL required procuring 1.50 lakh towers, we might have to wait by the end of this year to finalise the order again for the whole consignment," said the officer.
"And if the time consumed in procurement of equipment and their testing and installation is any hint, BSNL subscribers might be able to get 4G service in January next year," said a senior officer of the Department of Telecommunication (DoT), who is set to re-join the BNSL as part of the Central Government's bid to revive the struggling telecom entity.
Also Read: Union Cabinet approves ₹1.64 lakh crore revival package for BSNL
On Thursday, BSNL Chairman and Managing Director Anupam Shrivastava had addressed the key recourse of the company across the country and explained the salient features of the revival package, which essentially meant for trying only the indigenous technology for mobile network.
"The revival package clearly stipulates that the BSNL would turn as a platform for indigenous companies to try and test their equipment and make it robust. Unlike the private operators, BSNL can't go for negotiations with foreign companies for supply of equipment," said an officer, adding that the package was doled out with clear-cut motto to promote the concept of 'Atmnirbhar Bharat'.
Also Read: Centre approves ₹26,316cr plan to bring 7,287 villages under 4G net
As of now the TCS, the country's largest IT service provider, has entered into hardware manufacturing after acquiring the controlling stake in Tejas Networks, and agreed to supply the equipment for 4G rollout of the BSNL at the cost of ₹560 crore. However, the TCS had sought revision of cost of the order due to many factors including the disruption in supply chain due to the Covid pandemic. Officials said that the BSNL's bid to get sufficient supply from the TCS might suffer if its technology is tested successfully and found competing with those of multi-national companies.