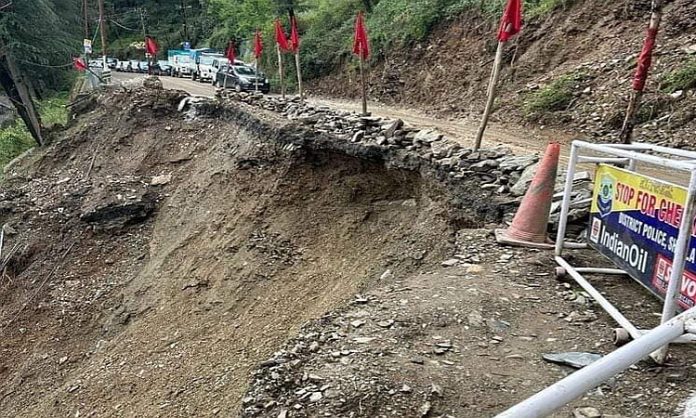 Theog (Himachal Pradesh): Engineering workforce of the public works department (PWD) partially restored the traffic of National Highway-5, connecting the Indo-Tibet border, which was closed for vehicular movement near Theog bus stand in the morning after subsidence.
Traffic on the highway that connects the tourists' paradise city of Theog was stopped following subsidence at around seven o'clock. The traffic has been restored, but only for one way and for light vehicles within two-three hour of the incident.
Also Read: Centre sets up expert committee to look into Khooni Nallah a portion of road, located about 400 meters from Theog bus stand towards Shimla NH, had started sinking in since last night. Due to late-night heavy rainstunnel in Kashmir
Reports said that , soil and stones kept falling. It is being told that this road has sunk due to digging deep foundation for the ditch and rain on the spot.
The portion of road, stretching in about 100 metres caved in completely in the morning. After this, the PWD engineers demolished the upper part of the road with JCB on the spot and widened it slightly. Only then the road could be opened for vehicles. Upper Shimla remained completely cut off from the capital till around 9 am.
Also Read: Bengaluru-Mysuru expressway gets flooded in light rain, damaged
Local people, students face hardship
Due to the closure of NH in Theog, the local people including those of Kotkhai, Sainj, Chaupal, Nerva, Rampur, Kinnaur, Kumarsain, Narkanda, Matyana etc. areas of Upper Shimla also faced difficulties. Working people could not reach office and children could not go the schools on time. There were long queues of vehicles on both sides of the road.
Delayed construction of NH complicated issues
The work of 2.3 kilometer long bypass is going on in Theog for the last six years. The inordinate delay in completing the project had led to cost escalation of the project. Initially, it was proposed to be built from about ₹37 crores, which rose to ₹60 crores. In such a situation, if the bypass had been built, then people would not have to face problems.
Also Read: RCD plans inner ring road in Ranchi, leaves villagers up in arms
People, tourists advised to use alternate road
Shimla Police has advised people to use alternate routes in view of landslides on Theog NH. People travelling towards Shimla from Rohru, Kotkhai and Chopal can reach the capital via Sainj-Dhamandhari-Fagu road. Similarly, people going from Shimla to Rohru, Kotkhai and Chopal, vehicles going from Solan to Rohru, Kotkhai and Chopal will use Sainj-Balag-Solan road and passengers going from Rampur to Shimla will use Sunni- Basantpur can reach its destination by road.