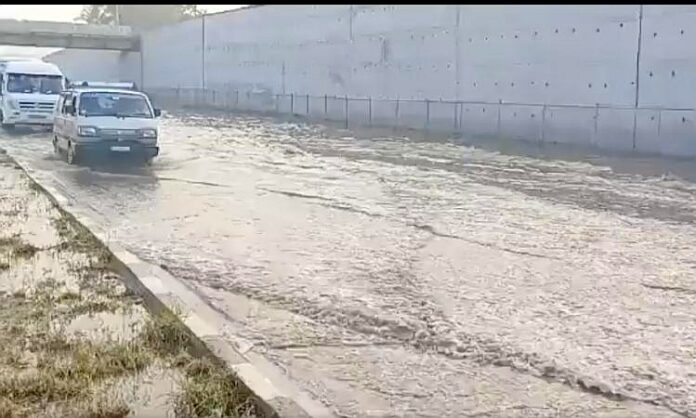 Bengaluru: The Bengaluru-Mysuru expressway suffered extensive damages due to moderate rains within six day of its inauguration by Prime Minister Narendra Modi. The 118-km-long six-lane expressway was built at the cost of ₹8,480 crore by the National Highways Authority of India (NHAI) with a promise to half the travel time between the two cities.
A major stretch of the road got inundated at the first shower and many vehicles broke down in accidents on the road due to heavy craters and potholes cropped up due to the waterlogging. The accident that resulted in slow moving vehicles along periods of traffic jams on the highway, some distress commuters lashed out against Karnataka chief minister Basavaraj Bommai and the Prime Minister for damage to their vehicles.
The vehicle owners questioned whether the highway was actually ready for inauguration. "Did the Prime Minister Modi inaugurate the expressway after making sure that the road was ready for the traffic? Should we suffer for the sake of vote bank politics? Will the government wave off whopping toll fee on the Bengaluru-Mysuru expressway." asked a passenger.
The PM had inaugurated the project involved six-laning of the Bengaluru-Nidaghatta-Mysuru section of NH-275 with much fanfare and said that it will act as a catalyst for socio-economic development in the region.
Also Read: PM Modi dedicates 6-lane Bengaluru-Mysuru expressway to nation
The flooding near an underpass near Sangabasavana Doddi between Ramanagara and Bidadi led to chaos on Saturday as vehicles were spotted stuck in traffic jams. "We had left space for drains but some of the villagers blocked the drains with mud which resulted in flooding. We are clearing it and the road will be open as usual," said NHAI project director B T Sridhar.
MoRTH issues clarification
The ministry of road transport and highways (MoRTH) on Saturday evening issued a clarification regarding flooding of Bengaluru-Mysore expressway. It said, "In Karnataka Yesterday (17.03.2023) night, there was excess rainfall (3.9mm against 0.1mm normal) resulting in inundation below animal overpass at km.42.640 due to blockage of drainage path by the villagers.
Villagers of Madapura & others have tried to short cut access to enter their agriculture lands and village at Km.42+640 by blocking the drain with soil for a width of 3m to make their own pathway from service road resulting in inundation of road due to blockage of drainage path. The bund constructed by the Villagers for their access was removed on 18.03.2023 early morning itself.
In order to facilitate adjacent fields of Madapura Village, it was decided to provide by pipe drain with  two rows of 1.2m dimeter pipe. The work is in progress and likely to be completed by 11.30Pm tonight.
Have a look at the newly opened Bengaluru – Mysuru expressway which couldn't withstand moderate rain,

Never hurry & rush to open incomplete expressways for elections 👇 pic.twitter.com/SGGwKOSSyX

— YSR (@ysathishreddy) March 18, 2023