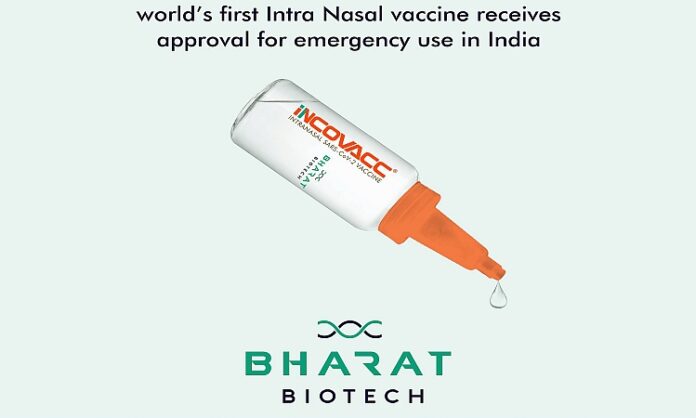 Patna/Ranchi: The long-awaited intranasal vaccine against Covid, Incovacc, remained unavailable for the states notwithstanding the much-hyped announcement to include the same in the national inoculation programme on December 23.
During his virtual meeting with the health ministers and heads of the health department of various states regarding state of preparedness, Union health minister Mansukh Mandaviya had announced that the government had included the Bharat Biotech's nasal vaccine, Incovacc, in the national vaccination programme. The vaccine is to be used as precaution dose to already vaccinated people.
However, officials of the health department of Bihar and Jharkhand on Saturday said they had no idea as to when and how the intranasal vaccine would be made available to them. "The state has received no information regarding availability of Incovacc, as of now," said additional chief secretary, health, Jharkhand, Arun Kumar Singh.
Executive director, health, Bihar, Sanjay Singh said that he too was waiting for the arrival of intranasal vaccine doses, which was discussed during the video-conference meeting with the Union health and family welfare minister. "We are in the dark whether it will be made available to the government or to the private hospitals only," said Singh.
Also Read: Centre asks states to follow 'T-V' strategy to curb Covid spread
The officials said that availability of other injectable vaccines like Covaxin, Covishield, etc, too are not sufficient to handle to demand. "We are left with only 1.67 dose of Covaxin and 2,200 doses of Covishield, which can be exhausted within a couple of days if there is any surge in demand for it," said a senior health department officer of Bihar.
Stock of vaccines in Jharkhand is too very limited and being administrated to only the vulnerable lots due to its scarcity, said a Jharkhand government officer, hoping that the supply would be streamlined soon in keeping with the fear of Covid outbreak apprehended by the central government officials.
Also Read: Post-Covid, domestic aviation sector in recovery mode
Soon after the Union health minister's announcement for intranasal vaccine in the national vaccination programme, the media went overdrive to suggest that the Incovacc would be available on the Cowin internet portal and anyone willing to have a precautionary dose may register for it. However, the intranasal vaccine was also not visible for registration on the Cowin portal till Saturday evening.
The needle-free vaccine Incovacc had received approval of the Drugs Controller General of India (DGCI) in November for restricted use in an emergency situation. Media reports, however, said that the vaccine will only be available at private centres for now.