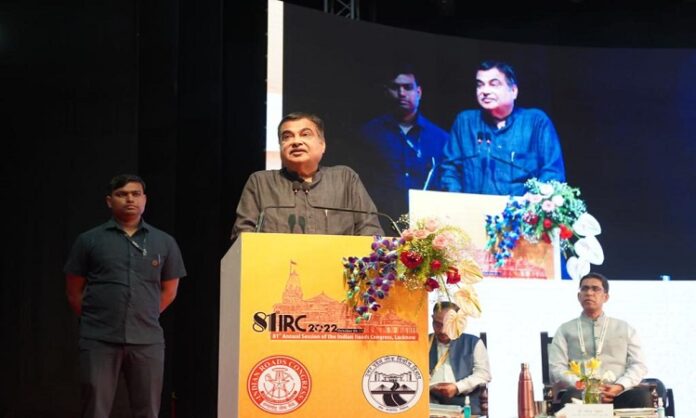 New Delhi: Union minister for road transport and highways (MoRTH) Nitin Gadkari said on Saturday 49km stretch of National Highway (NH-39), passing through Jharkhand's Palamu district will be strengthen as four-lane road. A sum of ₹1,390.77 crore would be spent on the project.
Gadkari made this announcement through a series of his tweets posted before attending the 81st edition of the Indian Road Congress (IRC) at Lucknow. At programme, he urged the engineers to go for flawless and error free design of the roads so that the possibility of accidents is checked significantly.
Officials of the National Highways Authority of India (NHAI) said that the MoRTH has approved the proposal to widen the NH 39 from Bhogu village to Sankha via Supva, Padwa, Medininagar, Chianki, Hirsa and Polpol in the Maoists-infected Palamu district. This will also benefit the people of the villages on either side of these areas.
NH-39 is 869 km long
The total length of NH-39 is 869 km, which goes from Madhya Pradesh to Jharkhand via Uttar Pradesh. This NH reaches Ranchi via Jhansi, Chhatarpur, Panna, Satna, Rewa, Sidhi, Singrauli, Renukoot, Shaktinagar in Uttar Pradesh and Garhwa, Daltonganj, Latehar, Chandwa, Chanho, Mandar and Ratu in Jharkhand.
Also Read: Mahagama-Hansdiha NH in Jharkhand to get landing facility for IAF fighter jets
Nitin Gadkari inaugurated exhibition of IRC
Soon after addressing the gathering of engineers at the IRC in Lucknow, Gadkari also inaugurated an exhibition there. Union Minister of State General VK Singh and Uttar Pradesh Chief Minister Yogi Adityanath as well as UP Minister Jitin Prasada were also present on the occasion. Gadkari was received at the airport by the CM of UP and minister of public works department, UP.
Also Read: Patna-Gaya-Dobhi road to be complete by March next year: NHAI
Construction of 4-lane NH along Bihar-UP border
Gadkari has approved the construction of four-lane highway from Hridaypur to Shahpur section of Ghazipur-Ballia-UP/Bihar State Border (greenfield) section (Package-I) of NH-31 in Ghazipur district of Uttar Pradesh. The information about giving approval was also given through tweet. He said that ₹1,706.471 crore would be spent on this construction.
Also Read: NHAI issues tender to build 1st package of Ram Janki Path in Bihar
4-laning of NH227A in Saran (Bihar) also approved
Under the backward area/religious/tourist place (BRT) scheme in Saran district of Bihar, 4-laning of NH-227A from Siwan to Mashrakh including construction of four-lane Tanarwa/Siwan bypass of NH-531 has also been granted the green signal by the MoRTH. Gadkari in a tweet said that construction and up-gradation of NH-227A has been approved at a cost of ₹1,431.36 crore under Gati Shakti project.