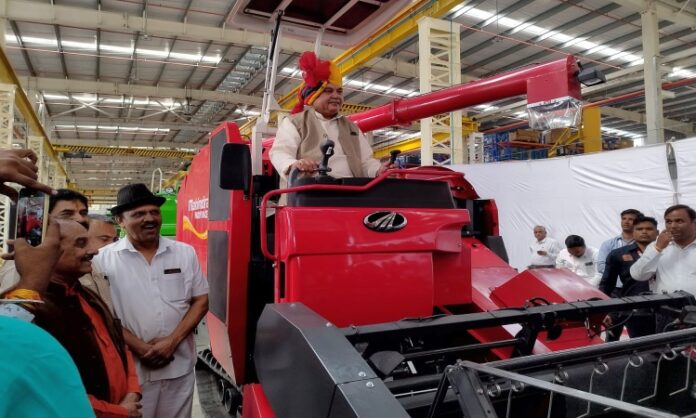 Pithampura (Madhya Pradesh): With a view to giving boost to farm mechanization and thereby helping the farmers to enhance their income, the Union agricultural minister Narendra Singh Tomar on Tuesday inaugurated the first greenfield farm machinery plant of Mahindra & Mahindra's Farm Equipment Sector (FES) in Madhya Pradesh.
The M&M FES plant, which is strategically located in the industrial city of Pithampur, has access to a diverse supplier base, enabling the company to manufacture durable, high-quality, affordable and accessible 'Made in India, for India' farm machinery, marketed in both the Mahindra and Swaraj brands. The plant will also manufacture products for export to global markets in Asia, Africa, Europe and Americas.
Officials said that the new plant is capable of rolling out a series of new products designed at Mahindra's global technology centres of excellence in Finland (harvester and forest machinery), Japan (lightweight tractors and rice machinery value chain) and Turkey (farm implements). The new plant is spread over 23 acres and has a capacity to manufacture 1,200 combine harvesters and 3,300 rice transplanters per year. The Pithampur plant, along with its dedicated supplier park, is eventually expected to provide employment to 1,100 persons.
Tomar at the opening of the plant said that India has reached at a point where the world looks at us with a lot of hope these days. "We have to be fully equipped with technology to push the country on fast track of development," said the minister.
Also Read: Atmnirbhar Bharat: Centre to unveil village engineer training scheme
Tomar, who was the chief guest, said everywhere people flaunt 'Make in India' products. "We are Indians, it is a matter of pride for us, but when our products are appreciated, then it is a matter of even greater pride. This trend also shows the spirit with which our Prime Minister works," said the minister, adding that mechanization and technology are very much needed today.
Underling the challenges of climate change owing to burgeoning population of the country, Tomar said, "We not only have to increase our production-productivity, but also supply to domestic as well as other countries as a service to humanity, for which a lot more efforts are required."
Also Read: Mahindra & Mahindra, Jio-bp strengthen EV partnership
Hemant Sikka, president, FES, said, Mahindra has been the leader in the tractorisation of India for decades and is now determined to be a leader in farm mechanisation as well. "We aim to grow our farm machinery business by 10x in 5 years and the new farm machinery plant in Pithampur is a key pillar in the execution of this strategy," he added.